Politics
Is Bill Weld enough of a Libertarian to be the party's vice-presidential candidate?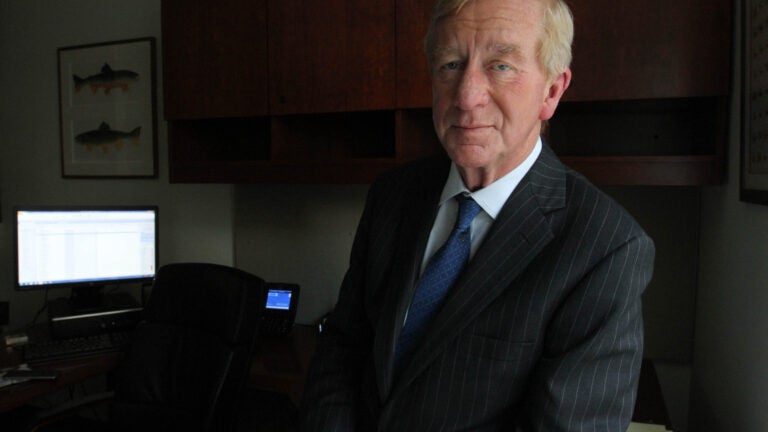 Former Massachusetts Gov. William Weld's campaign to become the Libertarian Party's nominee for vice president has been described as typically quixotic, a third-party candidacy befitting a man who has often been tough to pin down politically.
The difficulty defining Weld has caused some concerns in the party he hopes to represent, too. Some Libertarians contend that what Weld provides in experience and name recognition, he lacks in ideological purity.
"The bar is high," said Dan Fishman, the political facilitator of the Massachusetts Libertarian Party. "I believe he can meet that bar. But we're not going to bend our standards."
Fishman will be a delegate at this weekend's LP 2016 Convention in Florida, where the party will nominate its candidates. Gary Johnson, the former New Mexico governor who ran as the Libertarian presidential candidate in 2012 and hopes to again this year, cast Weld as his running mate. Party observers and experts say Weld is likely the favorite for the vice-presidential nod going in, but it's no slam dunk.
Unlike Republicans and Democrats, Libertarians choose both their presidential and vice-presidential nominees by delegates' decisions. Even if Johnson—who has also faced questions about his ideological bonafides—is selected as the party's presidential nominee, it doesn't mean Weld will automatically win the vice president slot.
Since Weld announced his nomination, some Libertarians online have voiced a myriad of concerns with his past positions, including backing gun control initiatives while governor, and voicing support for eminent domain and President George W. Bush's foreign policy approach—all of which are usually big no-nos within the party.
Weld also upset some Libertarians in 2006, when he earned the party's nomination for governor of New York while campaigning to become the Republican nominee. When he lost the Republican nomination, he did not continue to campaign as the Libertarian nominee.
"It's not obvious to me that a lot of undecideds in the middle are going to fall in and vote for Weld as well [as Johnson]. It's certainly possible that he won't get it," said Jesse Walker, a Maryland-based writer for the Libertarian-leaning Reason magazine whose recent article's headline declared that Weld "just isn't a Libertarian at all."
Walker said that Weld checks the box of being liberal on some social issues and conservative on some fiscal issues, the description popularly used to characterize the party. That description is helpful shorthand for the party, but it's "very simplistic" and doesn't necessarily describe a Libertarian, who first and foremost believes in limited government in both social and fiscal matters, Walker said.
In addition to comments and positions in his past, Walker said, Weld could face criticism this weekend over his more recent advocacy in Boston for the North-South Rail Link, a proposed multi-billion dollar public project that would build a tunnel connecting the rail systems north and south of the city.
"I could easily imagine that [criticism]: 'You're some person who gave us the Big Dig and you're talking about another major infrastructure project,'" Walker said.
Weld, who was not made available for an interview by the Johnson campaign, responded last weekend to some of the criticism in a lengthy Facebook post, which included a mea culpa for supporting an assault weapon ban and new handgun restrictions in Massachusetts in 1993:
"I am a lifelong hunter and gun owner. In 1993, however, as Governor of Massachusetts, I went along with some modest restrictions on certain types of firearms," he wrote. "I was deeply concerned about gun violence, and frankly, the people I represented were demanding action. Sometimes, governing involves tough choices, and I had to make more than a few. Today, almost 25 years later, I would make some different choices. Restricting Americans' gun rights doesn't make us safer, and threatens our constitutional freedoms."
Weld also defended his demurring from the New York Libertarian nomination in 2006, saying he sought the nomination as a way to build a coalition campaign in the Republican Party. When that didn't work, he said, there was no chance at victory.
In the days since that post, Weld has posted photos of himself earlier in his career with quotes reflecting more Libertarian viewpoints.
To be sure, Weld has accumulated support in the party, too. Many of the comment sections and other online discussions that include criticisms of Weld see even more hearty defenses of the candidate. Those defenses resonate with others involved with the party.
"He's clearly not a pure Libertarian—no elected official really is," said Jason Sorens, a Dartmouth College lecturer and the founder of the Free State Project in New Hampshire. "You can't stand by all the tenets of an ideology when you have to pay attention to election and reelection. But he is closer to a Libertarian than the vast majority of current and former state chief executives."
A Weld candidacy carries one major advantage: The amount of media coverage he has already generated is indicative of the increased attention a ticket with two former governors might draw, Sorens said. And in an election likely to feature two major-party candidates who have not been fully embraced by their own parties, that could be a big deal if Libertarians hope to grow their appeal among voters.
The conflict between ideological purity and mainstream appeal echoes themes that have characterized the nominating races in the two major parties this year, said Brett Bittner, the executive director of the Advocates for Self-Government, a Libertarian-leaning nonprofit.
Sorens said it's even more pronounced in third parties, where losing is assumed. If the goal is to put the party's message out there, the question becomes, what's the best way to do so?
"[Purists] would argue that as long as we're not going to win we might as well have somebody who's going to fly the flag of high principle," Sorens said. "In certain cycles, I might endorse that myself. … My rejoinder to that is that if the candidate isn't going to get into the news, he isn't going to be able to fly the flag of principle to as many people."