Politics
Libertarians pick former Massachusetts Gov. Bill Weld as vice presidential nominee after heated convention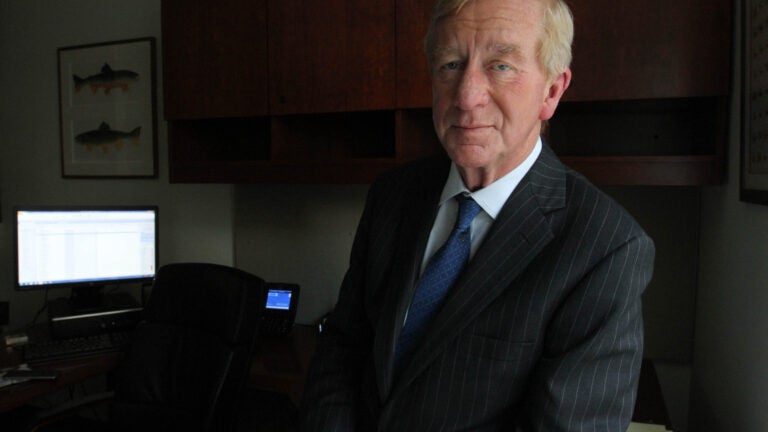 When the vote totals were finally tallied (for a second time), Libertarian Party vice presidential candidate Bill Weld's nomination was met with a chorus of cheers—and boos.
The mixed response reflected what had been a long, contentious, and at times unpredictable day of nominating in Orlando, as the Libertarians attempt to launch a viable third-party presidential campaign.
Weld, the Republican governor of Massachusetts from 1991 to 1997, will be the running mate of former New Mexico Gov. Gary Johnson, who received the Libertarians' presidential nomination Sunday for the second straight presidential cycle. The pick sets up what is likely the Libertarian's most formidable presidential duo in an already turbulent election year with two presumptive major-party candidates that are historically disliked by the public.
Unlike the Republican and Democratic parties, the Libertarians nominated their presidential candidates during their Memorial Day weekend convention in Orlando, rather than a system of primaries and caucuses. With just 50.57 percent of the vote, Weld inched past the 50-percent majority threshold on the second ballot of voting.
Johnson and Weld faced down a passionate challenge from the party's ideological base, as many Libertarian activists vociferously opposed the former Massachusetts governor due to his background as a Republican and past positions on gun control, foreign policy, and eminent domain. Weld, who was criticized as "Republican-lite" and struggled during Saturday's Libertarian vice presidential debate, pledged he would remain with the party for life and argued his name would bolster the Libertarian ticket.
"We are going to deliver for you, not as Republican-lite, but as Libertarian heavyweights," Weld told the convention crowd Sunday.
In a vote earlier Sunday, Johnson barely beat out fellow Libertarian candidate Austin Peterson and John McAfee for the presidential nomination, but only after a second round of voting, after he just missed the required majority on the first ballot by five votes. Upon accepting the nomination, Johnson pleaded to his party to nominate his chosen running mate. He argued that Weld's nomination would give unprecedented credence to the Libertarian ticket and noted the absurdity of otherwise being forced to debate his own vice presidential candidate.
"Please, give me Bill Weld," Johnson said, adding before the end of his speech, "Please, please, please."
In the separate nomination vote Sunday afternoon, Weld likewise only got 49 percent of the vote on the first ballot against a field of four other vice presidential candidates.
Before the second round of voting, two vice presidential candidates, Will Coley and Derrick Grayson, dropped out and threw their support behind the candidate with the second-most support, Larry Sharpe, in an effort to block Weld. However, Alicia Dearn, who had garnered just 29 votes (roughly 3 percent) and was eliminated on the first ballot, indicated to her delegates that they should support Weld.
And at least some of them did.
In the second round of voting, Weld received 15 more votes, which just pushed him past the clinching threshold (from 49 percent in the first ballot) and held off Sharpe, whose support rose to from 29 percent to 46.9 percent.
Whatever else happens this year, there will be more elected Republican politicians on the Libertarian ticket than on the GOP ticket.

— daveweigel (@daveweigel) May 29, 2016
With polls showing the two presumptive major-party nominees, Donald Trump and Hillary Clinton, with historically high unfavorable ratings, Johnson and Weld are hoping to pick up enough media attention and support to at least make this fall's presidential debates. Third-party candidates must register at least 15 percent support in recognized polls to participate in the presidential and vice presidential debates ahead of November's general election.
In a press conference following his nomination, Weld said he felt "full of hope and optimism" for their campaign. He said he hoped to build a web-based fundraising organization similar to the ones created by fellow New Englanders Bernie Sanders and Howard Dean.
Weld said that Trump has done a lot of good for the Republicans, but espoused the benefits of not having to be burdened by the "baggage" of the party's socially conservative views. He added that as governors, he and Johnson had been among the most fiscally conservative in the nation.
"They can like Donald Trump and still like us better," Weld said.