Politics
Donald Trump claps back to Kristallnacht likening, calls Bill Weld an alcoholic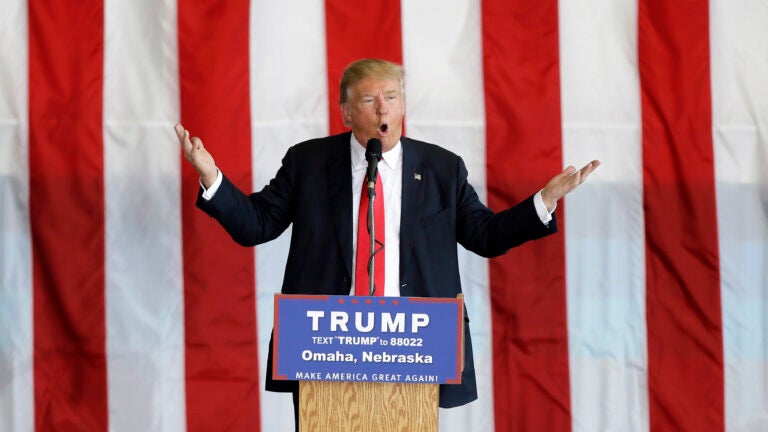 It appears Donald Trump did not appreciate Bill Weld comparing his immigration plan to the Holocaust.
Asked about the Kristallnacht comparison the former Massachusetts made when talking about Trump's proposal to deport an estimated 11 million undocumented immigrants from the country, the Republican candidate responded in true Trump form.
"I don't talk about his alcoholism, so why would he talk about my foolishly perceived fascism?" Trump told The New York Times through a spokeswoman. The comment appeared as part of article published Saturday about the rise of right-wing nationalism in other countries amid his campaign's success.
Weld, who is vying to become the Libertarian Party's vice presidential nominee, told the Times earlier this month that he "hear[s] the glass crunching on Kristallnacht in the ghettos of Warsaw and Vienna" when Trump's immigration plan is discussed.  Both Weld and Libertarian presidential candidate Gary Johnson have stood by the comparison, despite some criticism for its geographic inaccuracy (the 1938 attacks against European Jews by Nazi Germany did not occur in Warsaw, as indicated by Weld).
Trump did not offer any evidence to support his claim about Weld in the Times article. A 2006 New York magazine profile of Weld touched on the subject during Weld's gubernatorial campaign to be the Empire State's governor in 2006.
Weld attended Grateful Dead shows and bragged that he raised a "wee small one" of booze before speaking at an annual Saint Patrick's Day breakfast. His annual Christmas parties became legendary for the sheer volume of liquor, not to mention Weld's predilection for doing duck calls after a few glasses of what he liked to call "the amber liquid." At his second inauguration, Weld's speech was more than a little slurred. The Boston Globe reported that at a Rolling Stones concert staged the year after Weld resigned, he had been intoxicated to a point that he had trouble standing up (Weld told the Globe he had only one glass of wine). When I asked him about his drinking, Weld dodged a bit, then said, "I used to see Governor Carey drinking at P.J. Clarke's a lot, and he seemed to get things done."
In the Times article Saturday, Weld declined to respond to Trump.
"I'll let that ride," he said.