Politics
Bill Weld keeps comparing Donald Trump's plans to the Holocaust
"It reminds me of Anne Frank hiding in the attic."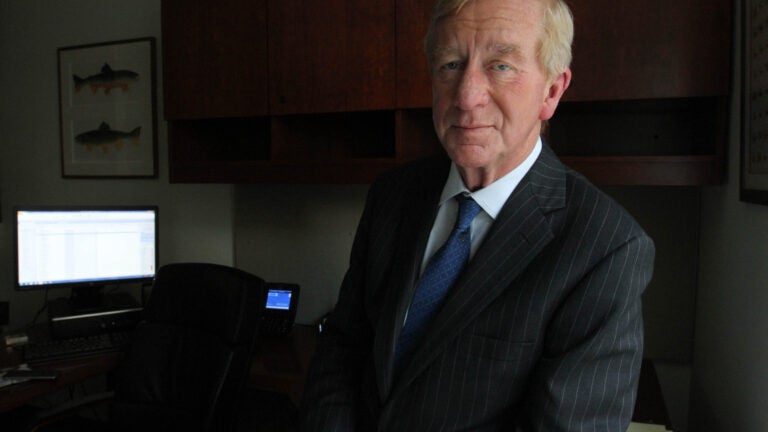 Last month, former Massachusetts Gov. Bill Weld invoked Kristallnacht when asked about Donald Trump's immigration plan.
Apparently, for the Libertarian Party vice presidential nominee, one Holocaust comparison was not sufficient.
In an interview Tuesday with MSNBC's José Díaz-Balart, Weld said the potential conditions created by Trump's proposal to deport the estimated 11 million immigrants in the United States illegally reminded him of the story of Anne Frank, the Jewish teenager who hid from the Nazis with her family in an Amsterdam attic and was later killed in the Holocaust.
"Rounding up and deporting 11 million people, they'd be hiding in antics to not get found and sent back to Mexico," the former Republican governor said. "It reminds me of Anne Frank hiding in the attic."
Weld added he thinks Trump's proposed border wall is "evocative" of the Berlin Wall, which he called "a badge of shame and stain on the Soviet Union."
Trump has said he would make Mexico pay for the proposed border wall by threatening to increase tariffs and block remittances sent back to the country from families living in the United States. But security, immigration, and civil engineering experts have said the wall—estimated to cost more than $26 billion, compared to Trump's estimate of up to $10 billion—would be ineffective and "cause more problems than it would solve."
Two weeks ago, upon announcing his candidacy for the Libertarian's vice presidential nomination, Weld told The New York Times that he "can hear the glass crunching on Kristallnacht in the ghettos of Warsaw and Vienna " when he hears of Trump's proposal to deport all undocumented immigrants (even though Kristallnacht did not occur in Warsaw).
"I think Mr. Trump is on the wrong side of history in these issues," Weld said Tuesday.
The interview with Diaz-Balart, however, was cut short after a fire alarm in the MSNBC studio repeatedly went off.