Politics
House passes Massachusetts transgender public accommodations bill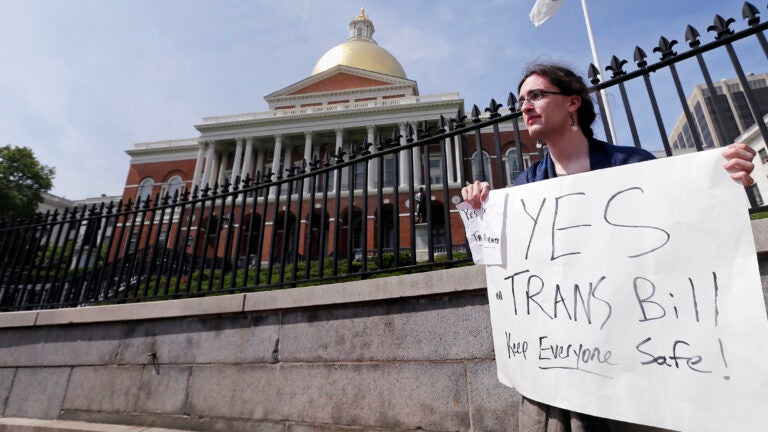 Though opponents chanted "No" outside their doors earlier in the day, the Massachusetts House of Representatives voted overwhelmingly to pass a transgender public accommodations bill on Wednesday
The 116-36 vote was announced just before 6 p.m. to resounding applause inside the House chamber, following a long day of debate and attempts to amend the bill.
Like a similar bill passed by the state Senate earlier this month, the legislation would offer transgender people protections from discrimination at public accommodations like restaurants and malls, and allows people to use the restroom or locker room that matches their gender identity.
Unlike the Senate bill, the House bill also includes a provision that the Attorney General's office issue guidance for potential legal action against "any person who asserts gender identity for an improper purpose." The language refers to fears by some critics that say the so-called "bathroom bill" could be used as cover for predatory men who want to gain access to women's bathrooms.
Senate President Stan Rosenberg has said he is open to the House formulation of the bill. Gov. Charlie Baker said on Tuesday that he would sign the House version of the bill if passed.
"We've certainly listened to a variety of points of view from many sides and have said, from the beginning, that we don't want people to be discriminated against," Baker told The Boston Globe. "If the House bill were to pass in its current form, yeah, I would sign it."
More than 30 amendments to the bill were proposed by House members Wednesday. Most of the amendments would have either created exemptions for certain bathrooms or addressed safety concerns regarding people potentially asserting a gender identity for improper use.
Supporters of the bill as it was already written, however, said such amendments equated transgender people to criminals and pointed out that improperly feigning a different gender is already punishable by law.
There is already a penalty for asserting gender identity for improper use. It's illegal—and violators will be punished. #TransBillMA

— Freedom Mass (@Freedom_Mass) June 1, 2016
Every one of the proposed amendments to change the bill's language failed by a wide margin.
Hundreds of opponents of the legislation, dressed in blue, also gathered inside and outside the State House on Wednesday and chanted "No, no" against the bill.
Opponents of the trans bill chant "no, no" outside the House chamber pic.twitter.com/sx9WZl4e2f

— Lauren Dezenski (@LaurenDezenski) June 1, 2016
If approved by the Senate and signed by Baker, Massachusetts would join 18 other states and Washington, D.C., that already have anti-discrimination laws for transgender people in public places on the books.
Speaking in support of the bill Wednesday during the House's session, Democratic Rep. Bryon Rushing, of Boston's South End, paralleled the fight for transgender rights to past movements, paraphrasing civil rights leader Martin Luther King Jr.'s quote: "The arc of the moral universe is long, but it bends toward justice"
"I always thought there should be another line: But not by itself," Rushing said, adding that the arc only bends because "courageous people grab it and bend it down."
"You are a courageous legislature," he said.
Following passage of the bill Wednesday, Boston Mayor Marty Walsh, Attorney General Maura Healey, and the Greater Boston Chambers of Commerce, all early supporters of the legislation, released statements applauding the House's work.
"I'm so grateful to those who've fought for these protections, including the families who bravely shared their stories and the many businesses that spoke up in support of equality," Healey said. "We have a proud history in Massachusetts of paving the way on issues of civil rights and equality."