Politics
New England's two Republican senators denounce Donald Trump's judge comments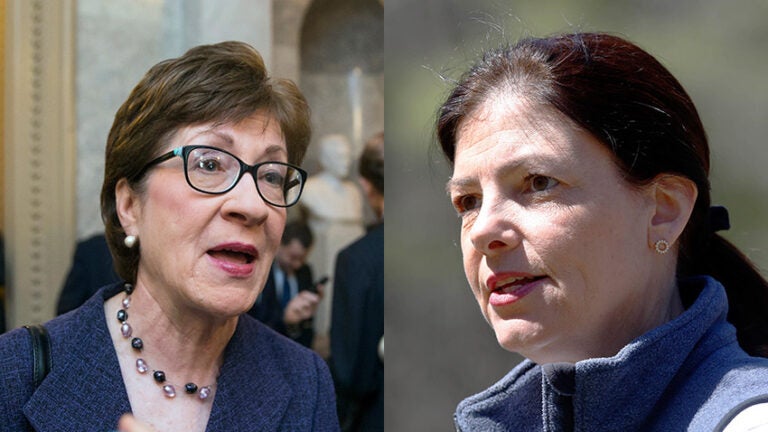 New England's two Republican senators are denouncing comments made by Donald Trump, after the presumptive GOP presidential nominee refused to back down over the weekend from his opinion that Muslim- and Mexican-American judges could be biased against him.
"His comments are offensive and wrong, and he should retract them," said New Hampshire Sen. Kelly Ayotte in a statement.
Ayotte, who is running for re-election this year against Democratic Gov. Maggie Hassan, continues to plan on supporting Trump come the general election, though she does not plan on endorsing him, according to campaign spokeswoman Liz Johnson.
New England's other Republican senator, Maine Sen. Susan Collins, issued a lengthier rebuke Monday, calling the comment's by her party's presumptive nominee "absolutely unacceptable."
In an interview Friday, Trump told the Wall Street Journal that Judge Gonzalo Curiel, who is presiding over a lawsuit against the impugned Trump University, had an "inherent conflict on interest" because the Indiana-born judge's parents are from Mexico and the GOP candidate has proposed to build a massive border wall. Trump refused to walk back those comments, when repeatedly pressed by CNN's Jake Tapper, dismissing charges the remarks were racist. And in an interview Sunday on CBS's Face the Nation, Trump added that "it's possible" that Muslim judges could not treat him fairly because of his proposal to temporarily ban Muslim immigration to the United States.
Collins dismissed both of Trump's claims in a statement Monday.
"His statement that Judge Curiel could not rule fairly because of his Mexican heritage does not represent our American values," she said. "Mr. Trump's comments demonstrate both a lack of respect for the judicial system and the principle of separation of powers."
Annie Clark, a spokeswoman for Collins, said Monday that the senator "has always supported the Republican nominee for President and she hopes to be able to do so this year, but she is still watching to see how things unfold."
Collins, who by some measures is the most bipartisan member of the Senate, said in May she suspected she would vote for Trump, but that he would "have to stop with gratuitous personal insults." She said that she was waiting for the real estate mogul to "articulate what a Trump presidency would look like" and "outline for us what his vision of America is beyond a slogan."
"I think he's perfectly capable of doing that, and it'll be interesting to see whether he changes his style, he starts acting more presidential, and whether he brings people together," Collin said at the time.
"Each day brings something new and it is going to be important to her whom Donald Trump picks for his Vice Presidential candidate," Clark added Monday.
Ayotte and Collins joined a chorus of Republican leaders, including Senate Majority Leader Mitch McConnell, who said he was "concerned" Trump would alienate significant demographics of voters.
In another corner of the country (or not-corner) on Monday, Nebraska Sen. Ben Sasse made the firmest criticism of Trump's judge opinions among his Republican peers, calling the comments the "literal definition" of racism.
Public Service Announcement:
Saying someone can't do a specific job because of his or her race is the literal definition of "racism."

— Ben Sasse (@BenSasse) June 6, 2016