Politics
Scott Brown has been saying Donald Trump is 'learning' for months now
"He is learning and growing, learning and growing."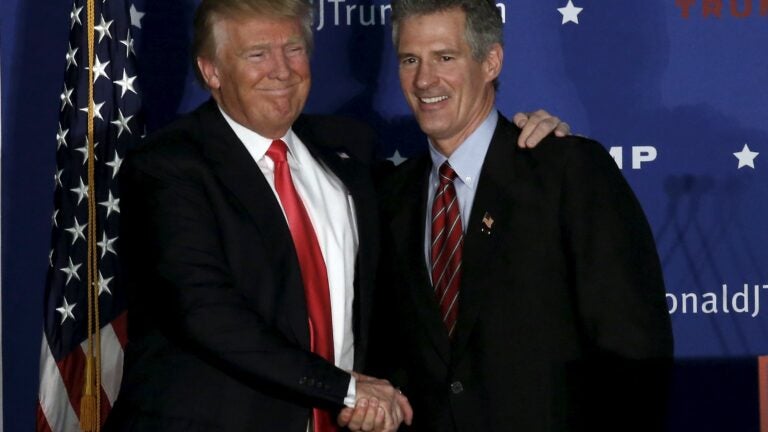 Donald Trump has had a lot to learn, according to Scott Brown.
In a Fox News interview Tuesday, the former Massachusetts senator-turned-New Hampshire resident said he wished Trump would talk more about policy issues on the campaign trail, rather than the lawsuit against the defunct Trump University.
"He is learning and growing, learning and growing," Brown said of his party's presumptive presidential nominee, who he endorsed back in February.
If the line of defense sounds familiar, it is because it dates back as far as Brown's support for Trump.
During an appearance on Megyn Kelly's Fox News show in April, Brown was asked if Trump would be able to unite the party. He advised the campaign to focus on policy, noting the real estate mogul's ongoing political education.
"I think that will give people a good sense of where his head is at," Brown said. "And he is learning. He is growing."
According to Brown, Trump's (very successful) jump into the Republican presidential primaries has been an extended learning process.
"He's still learning," Brown told ABC News on February 5. "He's like a sponge."
In a Facebook post February 7, Brown repeatedly responded to supporters who said they were disappointed by his endorsement of Trump with a similar line.
"Remember, he has only been doing this 6 months," he said. "Still learning."
Asked about Trump's shifting postures following the Iowa caucuses, Brown told Fox News on February 3, "As someone who's not a politician, you're gonna make mistakes. You're gonna live and learn."
Brown's defense of Trump apparently transcends politics. Having coached a seventh grade basketball team this past winter, Brown was asked during his ABC News interview whether he had any advice he gives his kids that he'd want to share with Trump.
"I tell the kids, 'If you're a shooter, shoot,' and 'if you're a great passer, pass,'" he said. "We'll improve on the other areas as we go along and learn and grow and learn and grow."