Politics
Donald Trump is coming to Boston for a very expensive lunch
The presumptive Republican presidential nominee will hold a $2,700-per-head luncheon fundraiser next week in the Financial District.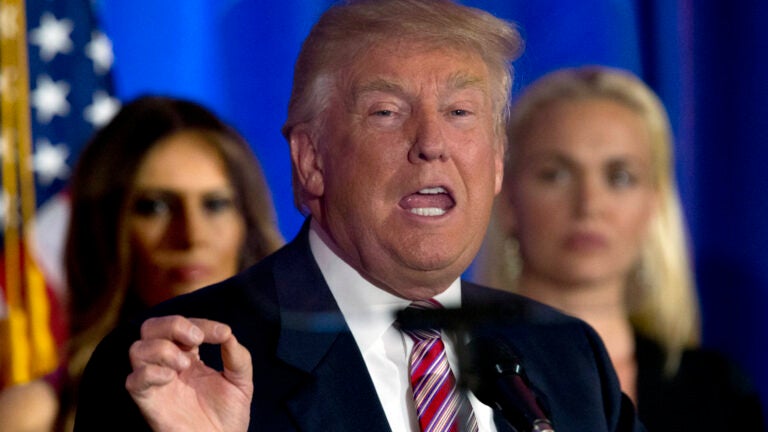 Having recently renounced his pledge to self-fund his campaign in time for the general election, Donald Trump is coming to Boston, and hopes you'll join him—for a modest sum.
According to The Boston Globe, the presumptive Republican nominee will visit the Financial District for a luncheon fundraiser Monday at the Langham Hotel, which will cost $2,700 (the annual individual contribution limit) to attend.
For $10,000 each, attendees can include a photo opportunity with their lunch. According to the Globe, couples can register to host the event by either directly donating or raising $25,000.
The event is being organized by former Massachusetts senator and New Hampshire resident Scott Brown, according to WMUR, at a time when many Republicans are distancing themselves from their party's nominee.
Annual contribution limits per year are $2,700 for donations to individual candidates, $10,000 for state or local parties, and $33,400 for national parties, so it appears a portion of the funds raised will benefit either the state GOP or national committee. As the Boston Herald reported, the event invitation was sent to supporters by GOP Chairman Reince Priebus and the Trump campaign finance co-chairs, Lewis M. Eisenberg and Steven T. Mnuchin.
Back in February before the Massachusetts primary, which Trump won with nearly 50 percent of the vote, the businessman was rumored to be planning a rally at Faneuil Hall, but the event never came to fruition.
Recent Massachusetts general election polls show Trump down by double-digits to presumptive Democratic nominee Hillary Clinton in the notably liberal state.
WMUR also reports that Trump expects to hold a rally in New Hampshire on Monday as well, though the time and location have yet to be released.
.@WMUR9_Politics 1st: Seacoast rally expected to be on @realDonaldTrump itinerary 6/13 in NH, as per NH source #nhpolitics #WMUR

— John DiStaso (@jdistaso) June 8, 2016
Trump held his first major campaign fundraiser—a $25,000-per-ticket dinner in Los Angeles—late last month, after the presumptive Republican nominee chastised his opponents throughout the primary as "puppets" for taking money from wealthy individuals. Himself a wealthy individual, Trump touted the fact the he was not beholden to outside interests.
According to the most recent campaign finance data, Trump has contributed about 75 percent of his campaign's funds.