Politics
Massachusetts legislative leaders aren't planning to change the Senate appointment rules for Elizabeth Warren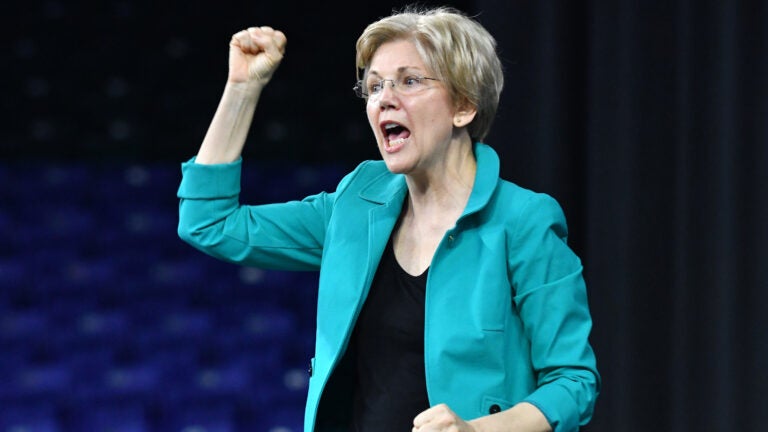 There are many reasons Elizabeth Warren would be an appealing running mate for Hillary Clinton.
The Massachusett senator is popular among Democrats, has shown to be an effective attacker against Donald Trump, and would be considered somewhat of an olive branch to Bernie Sanders supporters concerned about the presumptive Democratic ticket's progressive bona fides.
But there is also one big reason top Democrats say Warren should not be picked as a vice presidential candidate.
If elected, Warren's (at least temporary) successor in the Senate would be appointed by Republican Gov. Charlie Baker. With control of the Senate up for grabs, that has given Democrats serious pause about Warren's potential veep candidacy—and has even prompted Senate Minority Leader Harry Reid to scour the current Senate vacancy appointment rules for a legal workaround.
Emphasis on the word "current" in that previous sentence.
The thing is, ahead of past expected Senate vacancies, rather than looking for a loophole, Massachusetts state legislators have opted to simply change the appointment rules. Multiple times.
In 2004, the Democratic-controlled State House pushed through a bill that stripped then-Gov. Mitt Romney of his power to fill Sen. John Kerry's seat, presumably with a fellow Republican, as the Democratic senator ran for president. The measure—to keep the seat vacant until a special election was held in 145 to 160 days—was ultimately passed with a veto-overriding two-thirds majority, despite the fact the Kerry ultimately lost to incumbent President George W. Bush.
But then in 2009, with Democrat Deval Patrick as governor, state legislators passed a bill at the behest of Sen. Ted Kennedy to give Patrick the power to choose a replacement for the terminally ill Democrat.
Would Massachusetts legislators change the rules a third time for Warren? According to state House and Senate leaders, there are no such plans.
Whitney Ferguson, a spokeswoman for House Speaker Robert DeLeo, told Boston.com last week that DeLeo "is not in favor of changing the existing law."
Asked earlier this week by State House New Service, DeLeo added that he is not "terribly enthusiastic" about the again changing the rules, but said "it's a little premature to even speculate."
As he said during last weekend's state Democratic convention, Senate President Stanley Rosenberg "hasn't even thought about it," according to spokesman Pete Wilson. Wilson said that Rosenberg is currently focusing on the last eight weeks in the Senate's legislative session.
As Wilson noted, the question of whether or not Massachusetts would change Senate vacancy-filling rules in anticipation of a Warren vice presidency at this point is dealing within hypotheticals layered on hypotheticals.
However, as The Boston Globe reported, the hesitancy of state legislature leaders to change the rule for a third time in 12 years has Reid searching for ways to block Baker from filling Warren's potentially vacant Senate seat.
One option: Have the senator sign an "intent-to-resign" letter some amount of time before the January 20, 2017 inauguration date to eliminate or minimize the time a Baker appointee would serve in the Senate before the mandated special election.
According to the Globe, Reid "is very open to [Warren] being selected" as Clinton's running mate and reportedly has been "sending signals" for the campaign to do so.
But again, this is all hypothetical.