Politics
Elizabeth Warren keeps peppering her anti-Donald Trump speeches with Scott Brown jokes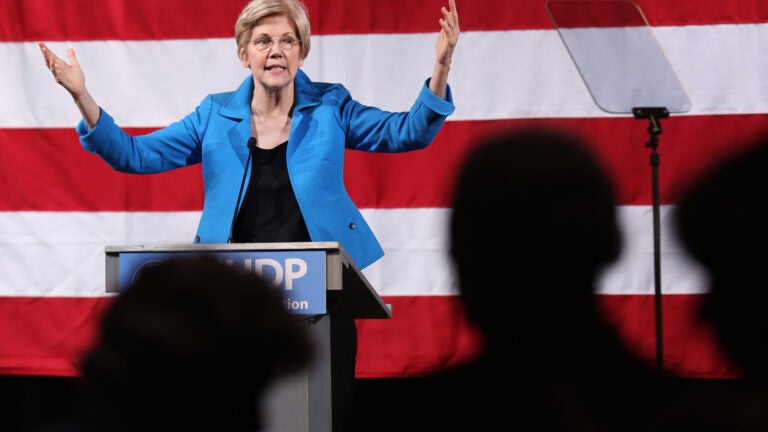 Another state convention; another round of relentless jokes at Scott Brown's expense.
It's been four years since Elizabeth Warren beat Brown in 2012, but the Massachusetts senator apparently still harbors some bitterness toward her former opponent—or she at least knows how to play to her audience.
Donald Trump was Warren's main focus—mentioned by name 48 times, according to prepared remarks—during her keynote address Saturday at New Hampshire's state Democratic convention. But just like in her speech earlier this month at the Massachusetts Democratic Convention, the Bay State senator opened with a Republican target closer to home.
"I'm here to apologize," Warren said. "See, back when I beat Scott Brown in 2012, I never expected him to pack up his truck, move to New Hampshire, and become your problem. I am soooo sorry."
One of the earlier high-profile endorsers of Trump this year, Brown—"the man who is not your senator," as Warren put it—moved to New Hampshire in 2013 and lost in a 2014 Senate race against New Hampshire Sen. Jeanne Shaheen.
Warren made sure that fact was not lost.
On the possibility of Brown being picked as the GOP vice presidential nominee, "Ah, so Donald Trump really does have a plan to help the unemployed," she said Saturday.
"You know, Scott Brown for vice president makes a certain sense," Warren continued. "I mean that—I think of all the expert advice that he can offer Donald Trump. Making up lies about me and my family. Saying weird stuff about his beautiful daughter."
"And let's face it: Nobody knows more about losing to a girl than Scott Brown," she added, smirking, to prolonged cheers from the crowd of Democrats.
Warren also threw in her joke, first told at the South Boston St. Patrick's Day Breakfast this year, that a Trump-Brown ticket would be somewhat of a reality show: "Celebrity Apprentice meets The Biggest Loser." During a speech earlier this month at her home state's Democratic convention, Warren struggled to hold back a smile after she joked that "so far, Scott Brown has not found another Senate race to lose."
Brown responded to Warren's attacks Saturday in a tweet, calling it "sad" (later reemphasized with a hashtag) that New Hampshire Gov. Maggie Hassan, a Democrat who is running this year against Republican Sen. Kelly Ayotte, "imported a #fraud to prop up her failing campaign."
Sad that #hassan has to import a #fraud to prop up her failing campaign. #checkedtheboxtogetahead. #sad https://t.co/3K0r6yRCST

— Scott P. Brown (@SenScottBrown) June 18, 2016
While Warren and Brown haven't directly faced off since 2012, some of the former Republican senator's campaign attacks have reemerged in the 2016 election cycle, as the Massachusetts senator takes a central role among Democrats in publicly criticizing Trump. The presumptive Republican presidential nominee has responded by referring to the Brown campaign's accusations that Warren, a former Harvard Law School professor, used claims of Native American ancestry to receive a career advantage.
As mentioned in her speech Saturday, Warren—who cites family lore with regard to her heritage—calls those accusations "lies" and refers to former colleagues who say her heritage played no factor in her professional advancement.
Trump has nevertheless taken to responding to Warren's attacks invoking the 2012 controversy, repeatedly calling the Democratic senator "Pocohontas." The New York Times reported Friday that Trump's frequent use of the name has offended or concerned Native American groups.
For the majority of her speech Saturday, Warren dialed in on the presumptive GOP nominee.
"I know we're having fun here today, but the truth is: I'm really not laughing when it comes to our elections this November," she said, going out to call Trump a "thin-skinned, racist bully."
Watch Warren's full speech Saturday in Bedford, New Hampshire here.
https://www.youtube.com/watch?v=b8LJGs2b9IY