Politics
Amid Senate vote, Kelly Ayotte shifts slightly on gun control, hints at compromise bill with Susan Collins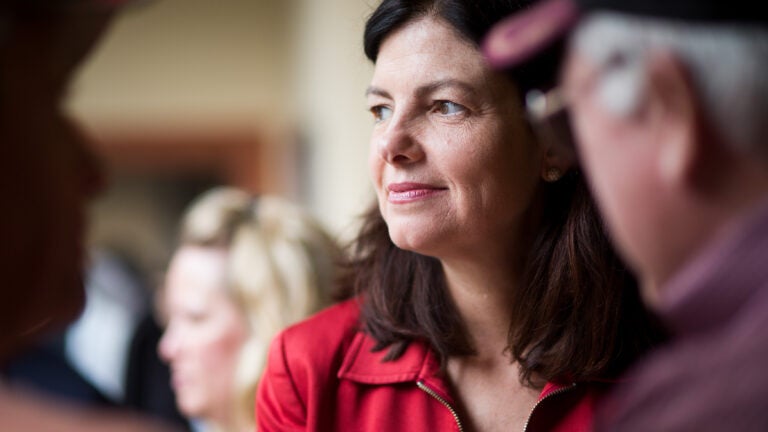 New Hampshire Republican Sen. Kelly Ayotte, in the midst of a tough re-election campaign, announced Monday that she will vote for two different proposals to prevent suspected terrorists from purchasing firearms.
However, Ayotte said she's not voting for them because she supports the measures as written—expressing reservations about both Democratic- and Republican-backed versions, which she expects to fail on party-line votes.
Rather, she said she would vote to advance debate on the so-called "no fly, no buy" issue as a means toward passing a compromise bill she's drafting with fellow Republican Sen. Susan Collins, of Maine.
"If you're too dangerous to board a commercial plane, it stands to reason that you shouldn't be able to buy a gun," Ayotte said on the Senate floor Monday. "It's simple as that and people on both sides of the aisle I think agree on that in principle."
Collins spokeswoman Annie Clark said the "compromise proposal," which is expected to be introduced Tuesday, would block the sale of guns to people on two terrorist watch list subsets: the no-fly list, which prohibits individuals from boarding a plane, and the "selectee list," which requires individuals to undergo additional screening before boarding.
Clark noted that Omar Mateen, the shooter in the recent Orlando attack, was reportedly on the selectee list for 10 months. According to Collins's office, the bill would cover about 2,700 people on the no-fly and selectee lists.
The measure would also include a provision to notify the FBI if anyone who had been on either of the lists within the previous five years purchases a gun.
According to Clark, the proposal would additionally "provide due process by allowing an individual to appeal a decision blocking his or her purchase of a firearm, and, if successful, to be awarded attorney's fees."
Ayotte said Republican Sens. Jeff Flake, of Arizona, and Lindsey Graham, of South Carolina, had been working with Democrats on the bill. Neither, Ayotte nor Collins's office named any specific Democrats on Monday.
The Senate voted on four separate gun control proposals Monday. All four failed.
Two of bills—one proposed by Democratic Sen. Dianne Feinstein, of California, and one proposed by Republican Sen. John Cornyn, of Texas—seeked to prevent suspected terrorists from purchasing guns. Collins's forthcoming bill is seen as a compromise between the two proposals, both of which failed to get the required 60-vote majority in the Senate.
Ayotte joined Illinois Sen. Mark Kirk as the only two GOP senators who voted for Feinstein's proposal, which failed 47-53. Both Ayotte and Kirk are running for re-election this year in Democratic-leaning states.
Feinstein's bill would ban anyone included on federal terrorism watch lists or databases within the previous five years from buying firearms or explosives. Meanwhile, Cornyn's bill would allow officials to impose a three-day delay on the purchase of a gun by anyone on the no-fly list for suspected terrorists (providing time for investigators to prove that the individual is suspected of terrorism).
Despite intentions to advance debate on the bills, Ayotte criticized both measures. She said Feinstein's bill was "very broad" and could prevent "innocent Americans" from buying guns with due process protection.
Famously, the late Sen. Ted Kennedy, of Massachusetts, was mistakenly on the selectee list and repeatedly hassled while attempting to board planes because his name vaguely matched a suspected terrorist's alias.
But Ayotte also criticized her fellow Republican's proposal, which she supported last year, while opposing Feinstein's bill, following the terrorist attacks in San Bernardino.
Supported Senator Cornyn's legislation in December because it afforded due process protections…

— Kelly Ayotte (@KellyAyotte) June 20, 2016
But I have concerns that – while well-meaning – the time frame for those investigations is simply too short.

— Kelly Ayotte (@KellyAyotte) June 20, 2016
Attorney General Loretta Lynch has said investigators need more time than the 72-hour period proposed in Cornyn's bill to make the case that a person should not be able to buy a firearm, as well as allowing a person to appeal.
"I think the American people deserve us to take the greatest amount of time and scrutiny that we can in the important decision of whether or not someone who's been implicated on this matter should, in fact, be able to buy a firearm," Lynch recently told Fox News Sunday.
Cornyn's proposal failed to reach the necessary 60 votes Monday on a mostly partisan 53-47 vote.
Following the votes Monday, Ayotte put out a statement calling for the Senate to come together for a solution that "ensures terrorists cannot purchase firearms and protects the Constitutional rights of American citizens."
My statement on my votes to advance debate on preventing terrorists from purchasing firearms: pic.twitter.com/Q1HsVqkHHy

— Kelly Ayotte (@KellyAyotte) June 20, 2016
The two other measures the Senate voted on concerning background checks for gun buyers also failed Monday.
A proposal by Democratic Sen. Chris Murphy, of Connecticut, would have expanded background checks to firearms purchases online, at gun shows, and from other non-federally licensed dealers. It failed 44-56.
The other proposal, sponsored by Republican Sen. Chuck Grassley, of Iowa, looked to improve the current background check system, but also failed to to pass cloture on a 53-47 vote.
According to Ayotte's office, the New Hampshire Republican voted with her party on both measures—for the Grassley amendment and against the Murphy amendment.
In a statement, Ayotte said the Grassley amendment improves the current system, but that the measure proposed by Murphy "widely expands a flawed system" and would not notify officials if a suspected terrorist attempted to buy a gun.
"I support background checks, and voted for the Grassley amendment to strengthen our current background check system, help increase prosecutions of gun violations, improve state compliance with mental health records requirements, and to require the Attorney General and federal, state, and local law enforcement to be immediately notified when a known or suspected terrorist buys a gun – all while protecting the Constitutional rights of law-abiding Americans," Ayotte said.