Politics
Maine's Susan Collins unveils a gun control bill, which she thinks can actually pass in the Senate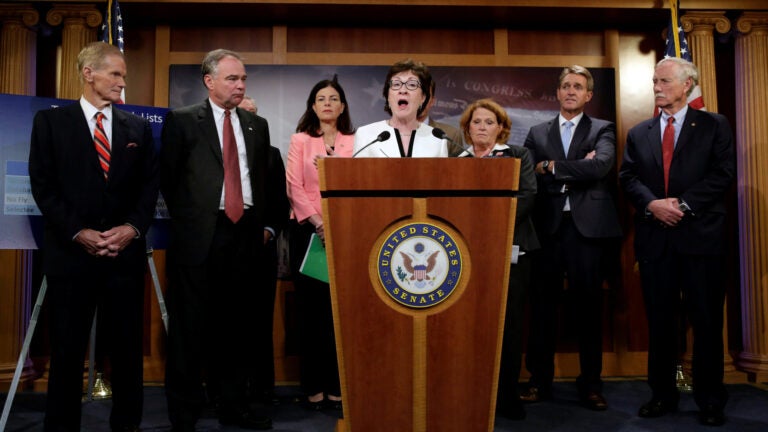 Backed by a group of both Republicans and Democrats, Maine Sen. Susan Collins unveiled legislation Tuesday to prevent terrorists from obtaining guns. And backers say the bill has an actual chance of garnering the 60-vote majority required to pass in the Senate.
Collins, a moderate Republican senator, called the deadly shootings in Orlando and San Bernardino, California, "a call for compromise, a plea for bipartisan action."
"Our goal is simple and straightforward," she said during a press conference Tuesday afternoon in Washington, D.C. "We want to make America safer."
The legislation would give the attorney general authority to ban gun sales to individuals on two terrorist watch lists: the no-fly list and the selectee list. Of the 109,000 individuals on the lists, Collins said the vast majority are foreign nationals.
However, in an attempt to address Republican concerns about infringing on Second Amendment rights, the legislation would provide a process to American citizens and residents to appeal a denial of a gun purchase. Collins said the bill would put the burden of proof on the government to show the individual is suspected of terrorism.
"This is one where it ensures that Americans have the due process protections that they need to challenge the finding if they believe it is wrong," said New Hampshire Sen. Kelly Ayotte, a former state attorney general who helped draft the appeals process portion of the proposal. "And if it is wrong, then they can recover their costs and attorney's fees."
In the wake of the Senate's failure to pass four separate gun control measures Monday, including two which looked to prevent suspected terrorists from purchasing firearms, Collins presented her bill as a middle-ground approach among the recent, mostly partisan proposals.
"If the purpose is no-fly, no-buy, we have accomplished that purpose," said the Maine senator. Collins said that she was told by Senate Majority Leader Mitch McConnell that the proposal would get a vote within the next two weeks.
Collins was joined Tuesday by a mix of co-sponsors known for crossing party lines in the Senate. The bi-partisan group included Republican Sens. Ayotte, of New Hampshire; Jeff Flake, of Arizona; Lindsey Graham, of South Carolina; Democratic Sens. Heidi Heitkamp, of North Dakota; Martin Heinrich, of New Mexico; Tim Kaine of Virginia; Bill Nelson, of Florida; and Collins's fellow Mainer, independent Sen. Angus King.
The proposal also includes a "look-back" provision, which would alert the FBI if anyone who has been on the government's broader Terrorist Screening Database purchases a gun. Looking to rally support from across the aisle, Collins said the provision is "similar" to a Democratic-backed proposal (which failed Monday) to ban anyone on the database from buying a gun.
Collins's office has noted that Omar Mateen, the shooter who killed 49 people in Orlando earlier this month, had been on the selectee list for 10 months during 2013 and 2014.
Hoping to convince fellow Republicans and gun rights advocates, Graham, who noted that he owns an AR-15 semiautomatic rifle, said he wasn't bothered by the inconvenience of "retroactive due process" for people mistakenly on the list due to the far greater interest of national security.
"The likelihood of someone being on this list and buying a gun to use it in a terrorist act, to me, is far greater than the likelihood of an innocent person being on this list," said Graham, noting that a total of 2,700 Americans combined are on the no-fly and selectee lists.
Graham said the "tie-breaker" in weighing the dueling concerns of safety and abridging an individual's Second Amendment rights was the appeals process.
"The person who is on this list for the wrong reason, they have a way to fix the problem," he said. "The people on the list for the right reason, this is just one more tool in the toolbox to make sure they can't hurt us."
https://www.youtube.com/watch?v=_5wt_sUGgrU