Politics
3 arguments for and 3 against Elizabeth Warren for vice president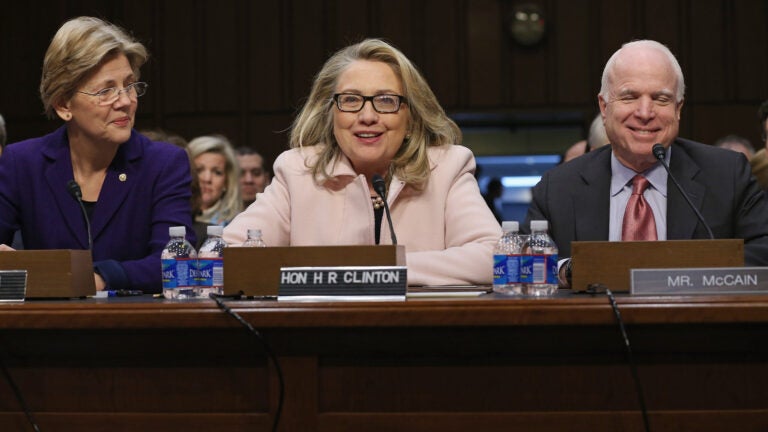 Will Hillary Clinton choose Elizabeth Warren to be her running mate on the Democratic presidential ticket?
It's a long-speculated question that has taken on increasing urgency in recent days amid reports that Warren, the U.S. Senator from Massachusetts, is being vetted by the Clinton campaign as a potential pick for vice president.
The choice would make sense on a basic level, as Warren has proved to be a strong critic of Donald Trump in a series of biting speeches and Twitter sprees. On the other hand, Warren and Clinton have had an uneasy relationship, potentially making any alignment between the two one based more on convenience than trust.
Here's a look at three reasons for and three reasons against a Clinton-Warren ticket.
For: Warren is one of the few Democrats with a national following.
One main reason to pick Warren is that she is one of the most popular, highest-profile Democratic politicians not named Bernie Sanders. Warren is the favored politician of economic progressives, and two years ago she was the focus of an intense effort encouraging her to run for president. Having Warren on the ticket would add a considerable amount of enthusiasm to Clinton's campaign and add a powerful voice with a megaphone to her team.
Against: Clinton wants to make this election a referendum on Trump.
Since clinching the Democratic nomination, Clinton has focused her speeches on the dangers of a Trump presidency to the economy and to foreign policy. Those speeches have attempted to portray the election as a referendum on Trump. And so far, that strategy seems to have worked; she has a significant polling lead months away from the election.
Choosing Warren, a freshman senator who has little to no foreign policy experience, would be a "bold" pick, as The Baltimore Sun writes. But Clinton may prefer a safer, lower-profile running mate, which would keep the election's focus on Trump rather than her own ticket.
"The conventional wisdom is that the general election is Clinton's to lose," Vox writes. "If that's the case, then perhaps Clinton's goal should be to nominate a 'safe' pick, rather than Warren, who's a riskier, outside-the-box choice."
For: Warren could help unite Sanders supporters behind Clinton.
Warren's creation of the Consumer Financial Protection Bureau and anti-Wall Street pressure has made her the darling of economic progressives, many of whom voted for Sanders in the primary.
"Warren is one of the few Democratic women with national name recognition and a big following among progressives, a voting bloc Sanders has energized," The Boston Globe writes. "Having Warren on the ticket could help Clinton stitch the party back together after a divisive primary."
Similarly, The New Yorker calls Warren the "missing link" that would unite the political left, best represented by Sanders, and the center-left, under Clinton.
Against: Uniting Democrats hasn't proved to be a major problem yet.
For as much attention as the so-called "Bernie or bust" crowd has garnered, polling has shown that the vast majority of Sanders supporters would vote for Clinton in a general election against Trump.
One major reason for that is Trump, who is deeply, remarkably disliked by Democrats. Sanders himself has not dropped out of the race, but he has pledged to spend the next few months working to stop Trump. Almost necessarily that means supporting Clinton.
"I look forward to meeting with her in the near future to see how we can work together to defeat Donald Trump and create a government which represents all of us and not just the one percent," Sanders said.
For: Warren's presence could cement Clinton's support among women.
Clinton has leaned into her role as the first woman to win a major party presidential nomination, positioning it as a breakthrough for all women and the end result of a history of progress on women's rights.
Tonight, we can say with pride that, in America, there is no barrier too great and no ceiling too high to break. pic.twitter.com/7vbGPJe543

— Hillary Clinton (@HillaryClinton) June 8, 2016
Choosing Warren for an all-female presidential ticket would further drill home that idea and could spur young women to turn out for the ticket. It would also provide a stark contrast to Trump's oft-inappropriate comments about women.
Against: Warren doesn't expand Clinton's support geographically or demographically.
Warren hails from Massachusetts, which is likely to vote a Democrat for president once again. So selecting her wouldn't add any advantage in an important swing state like Sen. Sherrod Brown of Ohio or Sen. Tim Kaine of Virginia.
In addition, having two older white women on a ticket would limit her demographic appeal, as The New York Times writes.
"Mrs. Clinton's major strength (and Donald J. Trump's potentially lethal weakness) is support among female voters, so she doesn't need to choose a running mate who could help generate enthusiasm among women," the Times writes. "Rather, Mrs. Clinton needs to improve her standing with white male voters, who remain reluctant to embrace her."