Politics
Reps. John Lewis, Katherine Clark lead House sit-in for gun bill, despite cameras being cut off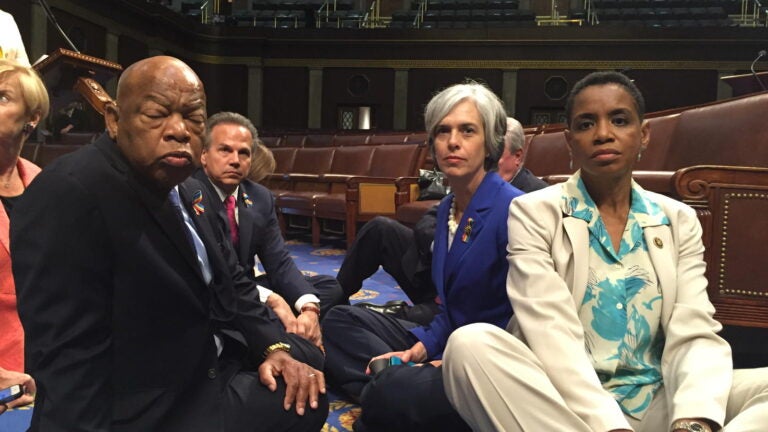 Scores of House Democrats, including nearly the entire Massachusetts delegation, protested the lack of a vote on gun control legislation by engaging in a sit-in on the House floor on Wednesday.
Rep. John Lewis, the legendary civil rights activist and Georgia Democrat, led the sit-in with a fiery speech calling on House Speaker Paul Ryan to hold debate and a vote on gun control.
"We have turned deaf ears to the blood of the innocent and the concern of our nation. We are blind to a crisis," Lewis said. "Mr. Speaker, where is the heart of this body? Where is the soul? Where is our moral leadership? Where is our courage?"
The C-SPAN cameras, which are controlled by House Republican leaders, were turned off as the House went into recess Wednesday afternoon. Shortly thereafter, as CNN reported in depth, Democratic legislators on the floor began using mobile video applications such as Periscope and Facebook Live to stream the proceedings from their phones.
C-SPAN itself picked up legislators' self-streaming efforts to televise the sit-in.
Watch the #NoBillNoBreak live stream via @RepScottPeters' @periscopeco https://t.co/gkaPTyQ15S#NoMoreSilence

— Ed Markey (@SenMarkey) June 22, 2016
Rep. Katherine Clark, of Massachusetts's 5th congressional district, took on a prominent role in leading the demonstration. On social media, the congresswoman spoke about why she was among about 30 House Democrats who engaged in the protest.
"We cannot enact solutions for families at home if the Speaker will not even allow a debate," she said in tweets, using the #NoMoreSilence hashtag. "We're starting a sit-in to urge Speaker Ryan to allow debate on solutions to keep Americans safe."
In a letter to House Speaker Paul Ryan, Lewis, Clark, and 17 other Democratic legislators demanded "a robust debate" and votes on expanding background checks for gun purchases and banning the sale of firearms to suspected terrorists.
Proposals on both subjects failed earlier this week in the Senate, though a bipartisan group of senators have since introduced what they believe to be a "compromise" bill.
#NoMoreSilence #WheresTheBill pic.twitter.com/u5AMX5lzew

— Katherine Clark (@RepKClark) June 22, 2016
Sen. Elizabeth Warren commended Clark for organizing the sit-in and visited the lower chamber Wednesday (on her birthday, no less) in a showing of solidarity with House Democrats.
.@RepKClark has done a terrific job putting this #NoBillNoBreak sit-in together. Proud to stand (& sit) by her side. pic.twitter.com/r3kMgUkQgz

— Elizabeth Warren (@SenWarren) June 22, 2016
Nowhere I'd rather spend my bday than the House floor w/ @repjohnlewis for gun control. #NoBillNoBreak #goodtrouble pic.twitter.com/nTzrO9c0Fk

— Elizabeth Warren (@SenWarren) June 22, 2016
Thank you for your service and your support. Happy Birthday! #holdthefloor #goodtrouble https://t.co/fxVauIIWIE

— John Lewis (@repjohnlewis) June 22, 2016
Massachusetts's junior senator, Ed Markey, also visited the floor and expressed his support.
Proud to join MA delegation at sit-in on House floor. We are demanding action to address gun violence #NoBillNoBreak pic.twitter.com/Q23tasWBTP

— Ed Markey (@SenMarkey) June 22, 2016
Clark told The Boston Globe in an phone interview Wednesday that she and other sit-in participants were prepared to occupy the chamber through Friday, after which the House will adjourn for more than a week for Independence Day.
"I brought my suitcase. I have snacks and a toothbrush in my purse with me on the floor," she told the Globe. "I'm committed to being here as long as we remain in session.''
Rep. Joe Kennedy III, partaking in the sit-in, tweeted Wednesday that they had received snacks from their Senate colleagues, as "a small token" of support.
Just received some delicious snacks for our #NoBillNoBreak sit-in. Thanks to our Senate colleagues! pic.twitter.com/5HO1rwOWtP

— Rep. Joe Kennedy III (@RepJoeKennedy) June 22, 2016
Clark was joined in the protest by the entire Massachusetts congressional delegation, including Reps. Richard Neal, Jim McGovern,  Niki Tsongas, Kennedy, Seth Moulton, Mike Capuano, and William Keating. Rep. Stephen Lynch did not join, but tweeted that he supported his colleagues in their efforts to address gun violence.
All of those lost to gun violence are people who love and have been loved. Watch my #NoBillNoBreak speech here: https://t.co/ICaTqtXTs2

— Rep. Joe Kennedy III (@RepJoeKennedy) June 22, 2016
Proud to join @repjohnlewis & @HouseDemocrats for House sit-in calling for vote to #StopGunViolence. #NoBillNoBreak pic.twitter.com/4iXsuU061q

— Rep. Jim McGovern (@RepMcGovern) June 22, 2016
Inspiring to be with so many Members of Congress at a sit-in on the House Floor demanding action on gun violence.

— Seth Moulton (@sethmoulton) June 22, 2016
Proud to join my colleagues on the House floor to demand vote on No Fly, No Buy bill. #mapoli #NoBillNoBreak pic.twitter.com/dMeu9Keyg9

— Bill Keating (@USRepKeating) June 22, 2016
This legislative body has been silent for too long on #gunviolence. Time to #DisarmHate #NoBillNoBreak #NoFlyNoBuy pic.twitter.com/d2tyK16AD6

— Rep. Richard Neal (@RepRichardNeal) June 22, 2016
w/Dems at #NoBillNoBreak. May this moment of action lead to fewer moments of silence for lives lost to #gunviolence pic.twitter.com/qrRcwqmxZz

— Niki Tsongas (@nikiinthehouse) June 22, 2016