Politics
Howie Carr: Trump told me not to apologize for 'war whoop'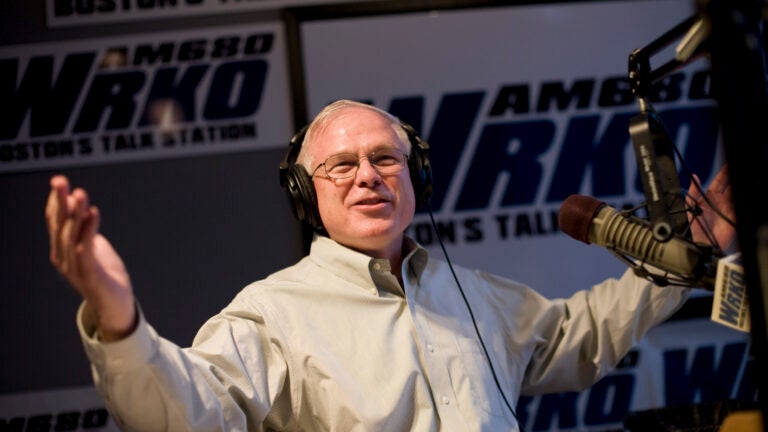 Shortly after mocking Sen. Elizabeth Warren with a "war whoop," Boston Herald columnist Howie Carr said he got some advice from the master of controversy himself, Donald Trump.
"Whatever you do, don't apologize," Trump told him aboard the candidate's airplane. "You never hear me apologize, do you? That's what killed Jimmy the Greek way back. Remember? He was doing okay 'til he said he was sorry."
Carr relayed that quote in a Herald column on Thursday morning that explains the conservative radio host's role at a Trump rally in Bangor, Maine on Wednesday.
The "Jimmy The Greek" reference alludes to the gambling aficionado and CBS sports commentator who made a lengthy remark in 1988 about how black athletes were "bred" to be superior athletes during slavery. He also said that if black people got coaching jobs, "there's not going to be anything left for the white people." He apologized but was fired for the comments.
Trump's reported reaction to the controversy contrasts with that of former Sen. Scott Brown. Back in 2012, after video showed Brown staffers doing war whoops and making tomahawk chops, Brown did not apologize but did say he did not condone their actions.
"It's certainly something that, if I'm aware of it, I will tell that [staff] member never to do that again," he said.
While introducing Maine Gov. Paul LePage, Carr spoke about Warren's recent rally with Hillary Clinton.
"I heard that Hillary Clinton and Elizabeth Warren [were] campaigning," he said while waving two thumbs down, as the audience booed.
"You know Elizabeth Warren, right?" Carr continued. He then put his hand to his mouth and imitated a "war whoop," a reference to Warren's claim that she is of Native American heritage.
WATCH: Howie Carr imitates "war whoop" to mock Elizabeth Warren at @realDonaldTrump event. https://t.co/CJDaHk8E5K

— ABC News Politics (@ABCPolitics) June 29, 2016
On Thursday, Carr, who often refers to Warren as "Fauxcahontas," explained why he made the gesture riffing on stereotypical depictions of Native Americans.
I was speaking extemporaneously when I free-associated Fauxchohantas' name, and suddenly a war whoop seemed appropriate for the occasion. Moments after I left the stage, one of Trump's aides handed me his cellphone, with a fresh headline from Politico:

"Boston radio host at Trump event mocks Warren with war whoops."

The Trump guy smiled. "That didn't take long."
Carr continued to defend the action and focused his ire on the Warren's claim of Native American heritage and the "PC Police."
"I give the needle to a fake Indian and suddenly everybody's on the, you'll pardon the expression, warpath," he writes.