Politics
Trump's 'Pocahontas' attack rooted in Warren heritage issue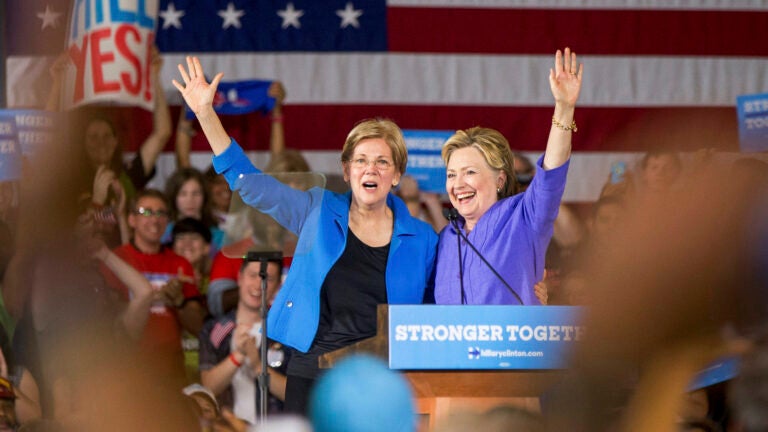 BOSTON (AP) — Donald Trump derisively refers to Sen. Elizabeth Warren as "Pocahontas," a taunt rooted in the Democrat's claims of Native American heritage that roiled her 2012 election win in Massachusetts.
"She's as Native American as I am," the New York businessman and presumptive Republican presidential nominee said. At rallies, some Trump supporters have mimicked B-movie versions of a Native American war cry to mock Warren, an oft-mentioned possible running mate for Hillary Clinton.
Trump's attacks are a response to Warren blistering the bombastic businessman in tweets and speeches, calling him a "small, insecure, money grubber" and a "thin-skinned racist bully."
A look at Warren and the issues:
___
WHAT'S HER ANCESTRY?
Questions about Warren's ancestry first surfaced during her 2012 Senate run, when she ousted Republican Sen. Scott Brown to claim the seat once held by the late Sen. Edward Kennedy.
During the campaign, law school directories from the Association of American Law Schools from 1986 to 1995 surfaced that put Warren on the association's list of "minority law teachers" when she was teaching at the University of Texas and the University of Pennsylvania. Warren said she listed herself with Native American heritage because she hoped to meet people with similar roots.
In a 2012 interview with The Associated Press, Warren, then a Harvard Law School professor, said she and her brothers were told of the family's heritage by their parents, the late Don and Pauline Herring.
"My mom and dad were deeply in love," said Warren, who was raised in Oklahoma. "My father wanted to marry my mother, his parents objected, because she was part Cherokee and part Delaware."
"My parents eloped, in order to marry," Warren added. "It's something my brothers and I grew up with. We always understood the difference, between our father's family and our mother's family."
___
2012 SENATE FIGHT
Warren said she never sought proof of ancestry because she didn't think it was necessary. "My mother was proud of who she was, and it was an important part of who she was. And my mother is an important part of me," she said.
Brown pressed her to release more information about how she described her heritage to potential employers. He began one debate by saying Warren "checked the box claiming she is Native American, and clearly she is not."
Warren acknowledged telling Harvard and her previous employer, the University of Pennsylvania, of her Native American heritage, but only after she had been hired by both schools.
"I didn't check a box to go to college. I didn't check a box to go to law school," she said. "The only box I checked was in a directory. I didn't do this to get a job."
Harvard Law School professor Charles Fried, who helped recruit Warren to Harvard, has said any suggestion she enjoyed an affirmative action benefit is "complete nonsense." He said she was recruited because of her work in bankruptcy and commercial law.
___
HERITAGE VS. CITIZENSHIP
Heritage is different from citizenship. Warren does not claim citizenship in the Cherokee Nation. That membership is based on the "Dawes Rolls," a federal list of Cherokees in Oklahoma from the late 1800s and early 1900s.
Some people with Cherokee ancestry are not eligible for membership because their ancestors were not among those counted. Others may have based their understanding on family stories in Oklahoma, home to the 300,000-plus member Cherokee Nation.
Cherokee Nation spokeswoman Amanda Clinton said stories of Native American heritage are common in Oklahoma, a state with 38 federally recognized tribes. But she said Warren, to the tribe's knowledge, has never claimed Cherokee Nation citizenship, which requires a person have one direct ancestor on the Cherokee Dawes Rolls.
Brown's attempt to use Warren's claim of Native American heritage against her ultimately backfired when a video surfaced showing staff members for Brown and the state Republican Party shouting war whoops and performing tomahawk chops.
Warren easily defeated Brown in November.
___
CHEROKEE NATION RESPONSE
Cherokee Nation Principal Chief Bill John Baker called the attacks on Warren by Trump and his supporters "incredibly offensive and distasteful."
"By calling Sen. Warren 'Pocahontas' and 'the Indian,' Mr. Trump degrades the histories, cultures and oftentimes painful experiences of all natives and our ancestors," Baker said in an email to the AP.
Baker said Trump should instead focus on issues that harm Native Americans, including the inability to prosecute non-Indians who commit certain crimes on native lands, poverty, lack of health care and the lack of job opportunities that disproportionately affect Native Americans.
___
PRESIDENTIAL POLITICS
The question of Warren's heritage has taken on a new life with speculation about whether Clinton may tap her as a running mate.
Brown, a Trump supporter, has criticized Warren and recently suggested she take a DNA test — tests that Cherokee Nation officials say are unreliable and don't determine one's tribe
Warren has been firing back.
"If Donald Trump thinks that by using Scott Brown's hate-filled attacks on my family he's going to shut me down, then he better think again," Warren said this year. "It didn't work before, and it's not going to work now."