Politics
Bill Weld compares Donald Trump to defunct, 19th-century 'Know-Nothing Party'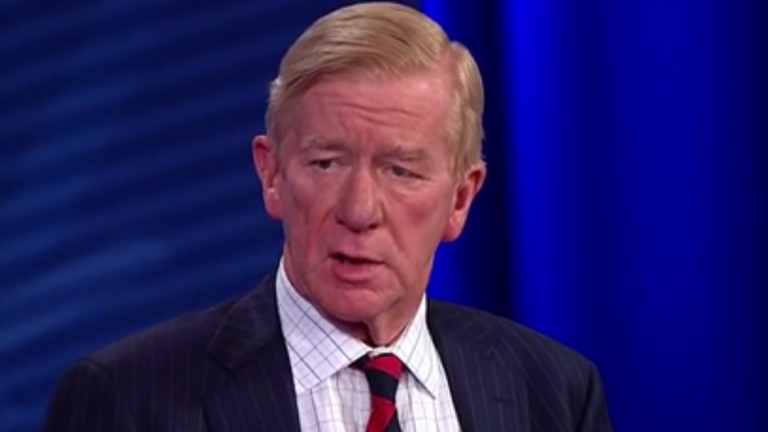 Bill Weld is back with more strong historical parallels for the 2016 campaign.
Addressing the National Press Club at a luncheon Thursday in Washington, D.C., the former Massachusetts governor alluded that Donald Trump's campaign was the reincarnation of a short-lived nativist movement in the 1800s and said his running mate, Libertarian presidential nominee Gary Johnson, reminded him of President Abraham Lincoln.
"A storm is brewing this year, and it seems possible the Republican Party will even crack in two," Weld, the Libertarian vice presidential nominee, said of his former party.
He then briefly paused, taking off his glasses: "That's not necessarily a bad thing."
Weld referred to when President Theodore Roosevelt left the GOP to form the Progressive Party, also known as the Bull Moose Party, in 1912. He also recalled another moment of political realignment, when an anti-immigrant movement arose amid the collapse of the Whig Party in the 1850s, to draw a comparison to the current political climate.
Formally entering politics as the American Party, the movement became popularly know as the "Know-Nothing Party."
"The Know-Nothing Party," Weld said. "That party was driven by three things: Anti-immigrant fervor, violent rallies, and conspiracy theories. I kid you not."
"Sound familiar?" he added, receiving laughs from the audience.
Weld has repeatedly blasted the hard-line immigration proposals of Donald Trump, the presumptive GOP nominee, as a call back to events during the Holocaust. Trump's campaign has also become known for a pattern violence at rallies and for its willingness to entertain conspiracy theories.
Articles in The Guardian and The New Yorker have also drawn the comparison between Trump and the Know-Nothings, a Protestant-only party that opposed immigration, mostly among Germans and Irish Catholics.
Speaking Thursday, Weld noted that the Know-Nothing Party was short-lived, and looked to frame the Libertarians cause as the movement with a brighter future.
"The other half of the Whig Party rebranded as the Republican party, went out to elect Abraham Lincoln president of the United States in 1860," he said. "In a number of ways, Gary Johnson reminds me of Abraham Lincoln."
"For starters, sheer physical strength and endurance," Weld said, referring to Johnson's hobby of competing in Ironman triathlons and hiking the tallest peaks on all seven continents.
Johnson, a former New Mexico governor, also spoke Thursday and tried to sell the crowd on the Libertarian platform of fiscal conservatism, social liberalism, and non-interventionism, while blasting Trump for his "incendiary" immigration proposals.
Johnson's "homespun wisdom," "discipline," and "obvious honesty," Weld said Thursday, were also characteristics reminiscent of Lincoln.
"Honest Gary," he said, trying out an attempt at his own Trumpian nickname. "I kind of hope that sticks."