Politics
Gary Johnson doth protest too much, pollsters say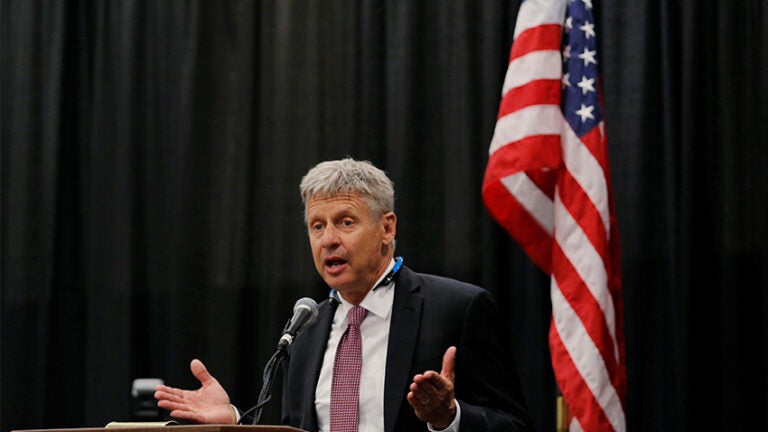 Libertarian presidential nominee Gary Johnson has repeatedly made it know: He's not too happy with how he's being treated by the polls.
The former New Mexico governor—running for a second time, now with former Massachusetts Gov. Bill Weld, at the top of America's third-most popular ticket—needs to meet a 15 percent threshold in national polls to be included in the presidential debates this fall.
"The idea here is to actually win," Johnson said of his campaign recently on MSNBC.
"But the only chance of winning is to actually be in the presidential debates and to be in the presidential debates you've got to be in the polls," he added.
Johnson went on to say that "for the most part" polls get issued with just two names—Hillary Clinton and Donald Trump—and then "sometimes they interject a third name and it will be mine."
Johnson said when he is included, he does "pretty well."
"How about three names," he suggested, perhaps to those pollsters out there watching daytime cable.
But are the Libertarians actually being excluded from the polls?
According to a Boston.com analysis of 44 nationally recognized general election polls taken since Johnson was officially nominated in late May, 32 polls, or roughly 73 percent, have included the Libertarian by name.
Green Party presidential candidate Jill Stein, a Lexington physician and activist, was also included by name in 20, or 45 percent, of the polls during that period.
In fairness, Johnson's inclusion rate is 27 percent less than that of Clinton or Trump. But in the most recent 27 polls since mid-June, the Libertarian candidate was included by name in all but four. Stein was also named in 17 of those 27 polls.
"We want to be more inclusive, than less," said David Paleologos, director of the Suffolk University Political Research Center, which conducts polls with The Boston Globe and, more recently, USA Today.
Paleologos said his organization tries to do their best to replicate the local ballot and thus included Johnson and Stein in their national polls, since the two candidates look to be on the vast majority of presidential ballots nationwide.
Republican pollster Bill McInturff said it's important to include third-party candidates, particularly this year given the astounding unpopularity of the presumptive Democratic and Republican nominees.
"The major party likely nominees have the two highest negative ratings of any major party candidates in polling history," he said.
Johnson, who has polled at or just below 10 percent, has also said it is unfair that third-party candidates are polled separately from the two-way race between Trump and Clinton (i.e. "When Johnson and Stein are added to the mix…").
"The polling organizations need to start with three names because at 10 percent, which is really where we're showing up in all these polls, shouldn't that be three names right now? I think so," he said last month in another appearance on MSNBC.
But both McInturff, who conducts polls for NBC News, and Palelogos rebuked those complaints.
"We have months of tracking the two-candidate race and it is important to measure change over time compared to past tracks," said McInturff, who also noted Johnson and Stein may not make every state ballot.
Likewise, Paleologos said measuring the difference between the two-way and thee- or four-way races provides can provide insightful information about voter preferences.
While Paleologos said Suffolk will continue to include Johnson and Stein in their polls through the fall, he said pollsters shouldn't bear the responsibility for including minor candidates.
"It's not our intent to get someone included in the debate or not included in the debate," he said, referring to statistical evidence that voters move away from third-party candidates as the general election nears anyway.
Polling firms that stick to the two-way horse race, Paleologos said, "may consider themselves ahead of the curve," despite whatever the cost may be to political pluralism.
Tom Jensen, director of Public Policy Polling, concurred that it was important to "at least give the third party candidates a chance to be included in the debates by including them" in polls.
That said, he doesn't expect this to be a "banner year" for the likes of Johnson and Stein.
"At the end of the day, Republicans really hate Clinton and Democrats really hate Trump," Jensen said. "They'll end up voting for their nominee whether they really love them or not instead of going third party, to stop what they see as the greater evil."