Politics
Bernie Sanders will join Hillary Clinton in New Hampshire Tuesday as likely endorsement nears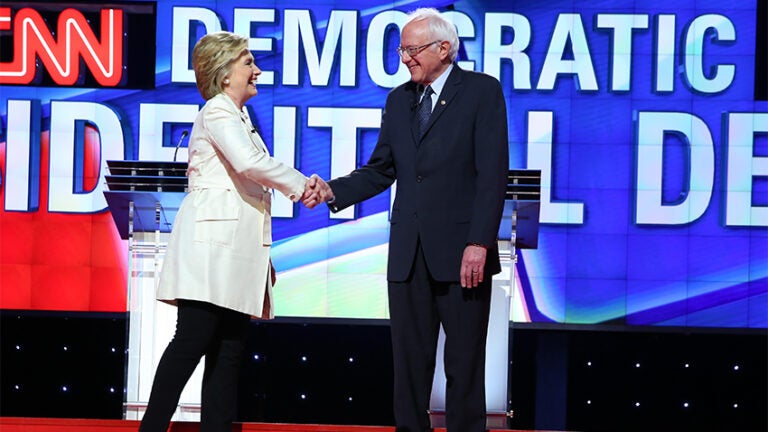 The two Democratic presidential candidates appear to be inching toward unity, if not Unity.
Hillary Clinton's campaign announced early Monday morning that Bernie Sanders will join her at a New Hampshire rally Tuesday morning at Portsmouth High School.
According to multiple reports, Sanders is poised to endorse Clinton at the event.
The Vermont senator has withheld his endorsement in the hopes of influencing the platforms of Clinton and the Democratic National Party, even though the former secretary of state clinched the party nomination in early June.
But within the last week, the Sanders camp has claimed a number of wins, with Clinton adopting elements of his proposals into her own and the national party passing what Sanders says is "the most progressive platform in the history of the Democratic Party."
The Clinton campaign announced Wednesday a new proposal to make tuition at all public colleges free for families making up to $125,000 a year, expanding on her original plan to make community college tuition free and taking a big step toward Sanders's proposal to make public college tuition-free for everyone.
And on Saturday, Clinton reaffirmed her support for a public-option health insurance plan and proposed expanding federal money toward community health centers, both of which the campaign sold as a nod toward Sanders's plan. In a conference call following the announcement, Sanders himself praised the changes as  "an important step forward in expanding health care in America."
The new proposals (and expected endorsement) come amid reported "daily talks" between Sanders's campaign manager, Jeff Weaver, and Clinton's campaign manager, Robby Mook, both Vermont natives.
Also on Saturday, Democrats passed a draft platform seen as the most liberal in party history following committee meetings in Orlando between Clinton and Sanders delegates. Both sides applauded the passage of the platform, with Sanders policy director Warren Gunnels saying his campaign got ""at least 80 percent" of what they wanted, according to NBC News.
"Thanks to the millions of people across the country who got involved in the political process – many for the first time – we now have the most progressive platform in the history of the Democratic Party," Sanders said in a post on his campaign website.
According to FiveThirtyEight's Nate Silver, if Clinton is able to swing Sanders supporters—the majority of whom have come to view her increasingly unfavorably—she will lead Donald Trump by a comfortable margin in national and swing state polls. If not, the November election "could come down to the wire."
With that in mind, the expected event (and endorsement) Tuesday, evocative of Clinton and Obama's famous unity rally in 2008, in New Hampshire, the state Sanders scored his first primary win, could be a good place to start.