Politics
Retired general from Rhode Island reportedly being vetted to be Donald Trump's running mate
And he's a registered Democrat.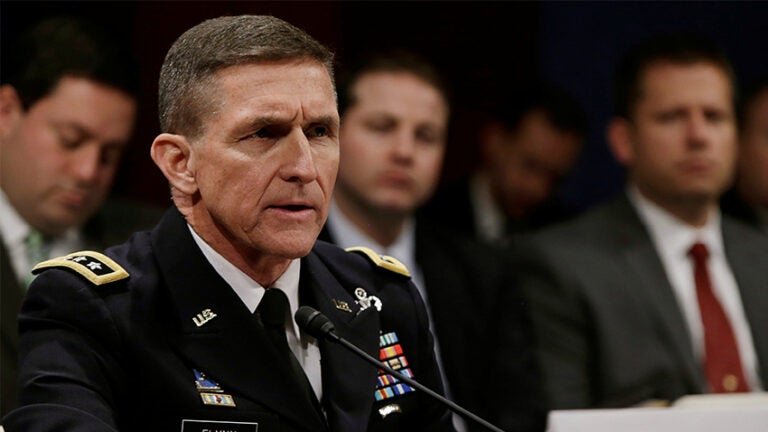 Call it a "curveball;" as the Washington Post reports, Donald Trump is considering a former Obama administration military general and Rhode Island native to be his running mate.
Retired Lt. Gen. Michael Flynn—a Middletown-born University of Rhode Island graduate—is being vetted by the Trump campaign to be the Republican vice presidential nominee, four people close to the process told the Post's Robert Costa on the condition of anonymity.
According to those sources, Trump himself is pushing the idea of teaming up with the general, in order to provide a "tough and steady" balance to the bombastic real estate mogul's presence on the ticket.
The news of Flynn's vetting, which was first reported Tuesday by the New York Post, comes during a week which saw Trump's veep shortlist dwindle, as several potential running mates took themselves out of the running.
In an interview with the New York Post, the retired general did not deny being vetted and signaled that he would willingly serve as Trump's vice presidential nominee.
"All I would say is that I have been honored to serve my country for the past three decades and look forward to serving in other ways now that I am retired from the US Army," he said. "I've been a soldier too long to refuse to entertain any request from a potential commander in chief."
Flynn told CNN in February that he has been advising the Trump campaign "on a range of issues."
Like the presumptive Republican nominee himself, Flynn's political views are a mixed bag of sorts.
According to the Washington Post, Flynn, who joined the Army in 1981, is a registered Democrat. In 2014, the former Defense Intelligence Agency director was fired after two years serving as the Pentagon's intelligence head, reportedly amid pressure by other defense officials.
In an op-ed Saturday for the New York Post, Flynn wrote he was fired for his stand on the use of the term radical Islam. In an interview with Al Jazeera, Flynn also would not condemn Trump's proposed immigration ban on Muslims.
However, pushed on Trump's proposals to pull out of NATO, bring back waterboarding, or "take out" the families of terrorist, Flynn refused to state support for such policies, while also trying to not to criticize Trump.
Unlike Trump, Flynn has also said he "would love to see" Israel disarmed of its nuclear weapons.
In an interview Sunday on ABC's This Week, Flynn said he was pro-choice on abortion and signaled ambivalence with regards to same-sex marriage.
Perhaps coincidentally, the reports of Flynn's vetting—and subsequent heightened media attention—come the weekend before the retired general is set to release a new book.