Politics
Elizabeth Warren, Massachusetts delegation ask for study on health effects of noisy airports, like Logan
New flight routes have created a noise problem for some Boston-area residents.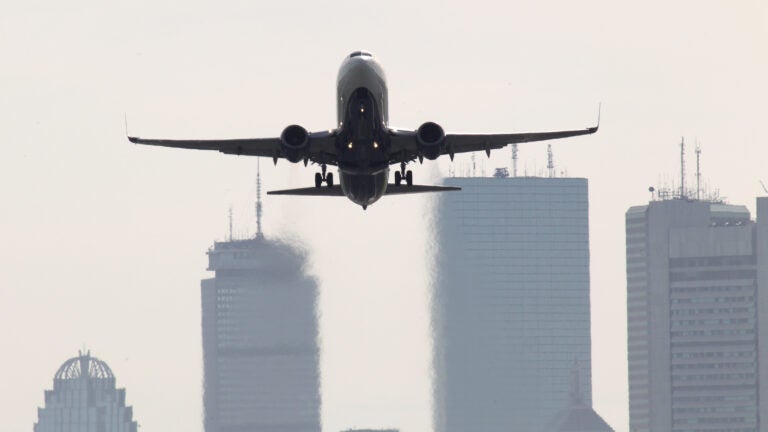 Massachusetts lawmakers are asking the National Academy of Sciences to conduct a study on the health effects of air traffic noise and pollution, after thousands of Bay Staters complained about planes heading in and out of Logan Airport last year.
In a letter to the prestigious research organization, Sens. Elizabeth Warren and Ed Markey and Reps. Stephen Lynch, Michael Capuano, and Katherine Clark asked why airplane noise complaints have dramatically increased in recent years, and how it could be affecting local health.
In the first nine months of 2015, the Massachusetts Port Authority, which operates Logan, logged more than 11,000 complaints from Boston-area residents—a dramatic increase from the 1,700 complaints logged during the same time period in 2012.
The Boston Globe reported last November that GPS-generated flight paths, which are designed to be safer and more fuel efficient, have resulted in concentrated noise for those living below the new, narrower corridors.
"The noise increase goes well beyond the threshold of being an annoyance, and there is growing concern in our communities that aircraft noise could be impacting human health," the lawmakers wrote, referring to a 2013 study that linked residential exposure to airplane noise pollution to an increased risk of being hospitalized for cardiovascular disease.
In April, Warren introduced legislation in the Senate requiring the Federal Aviation Administration to listen to communities affected by flight paths and potentially reconsider existing routes that expose residents to "unacceptable levels of noise."
Lynch, Capuano, and Clark introduced companion legislation in the House that same month.
In addition to studying the health effects of such noise, the lawmakers asked in their letter last week for the academy to analyze existing FAA policy, research noise reduction alternatives, and provide recommendations for the "most cost-effective approaches" to address the problem.