Politics
This Back Bay resident is running for president. Again.
Renowned economist and BU professor Laurence Kotlikoff is running as a write-in candidate.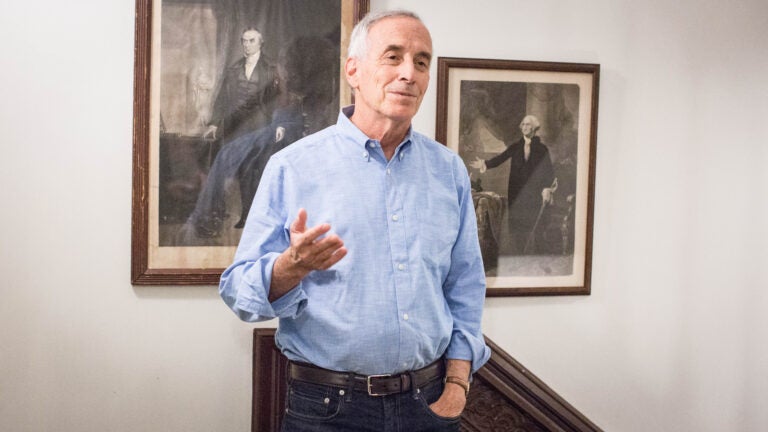 There's no sign that marks Laurence Kotlikoff's presidential campaign headquarters. There are no posters, banners or stickers, and, on a recent afternoon, the only associate walking around the office was a cat named Riley. The sole mark of anything presidential is a portrait of George Washington that hangs in the hallway outside the headquarters, which also doubles as Kotlikoff's Back Bay apartment.
"George Washington, now that's someone who stood up when it mattered," Kotlikoff said while gesturing toward the frame. "The odds were against him, and he knew something needed to be done, so he stood up and took on the job."
Kotlikoff, a Boston University economics professor and foremost expert on Social Security, also feels something needs to be done to fix the country, which is why he's running for president as a write-in candidate. Some might say it's a long shot, but the longtime professor has plenty of examples to help them understand why he's running.
"Take the square root of four," he said. "There are two answers. Two and negative two. Both work, and you can't say with certainty which is more probable. In this race, there are multiple plausible outcomes. Nobody predicted the Cavs would win three in a row and then the championship. No one predicted there'd be a spaceship orbiting Earth. We don't have a good way of gauging what the probability of these things are."
Kotlikoff is familiar with playing the odds. After all, this isn't the first time he's run for Commander in Chief. In 2012, Kotlikoff was one of many people who campaigned through Americans Elect, which was a political organization that tried to stage a national online primary. He initially ran because he was worried political gridlock would result in a worsening state for the country. And, just as he does today, he believed he could get things done.
The process was easy enough. He registered with the Federal Election Commission, established a website, and posted a platform. Just like that, he was a candidate for president. But, after five months, the organization ran out of money, and his campaign ended.
"I didn't lose but I didn't win," he said. "It got me over the hump of worrying about looking foolish. If you were today going to announce you're running for president, certainly people will raise their eyebrows. Your relatives will probably say you need to see a shrink."
His wife, and two adult sons—as well as his 96-year-old mother who lives across the street from his apartment—were all skeptical. But with the encouragement of fellow economists, Kotlikoff decided to run again this year. He said that his experience traveling to 50 countries on six continents and meeting top officials showed him that these leaders aren't any different from those without power.
"They all go to the bathroom, they all have physical problems, they all have their own standard human issues," he said. "These titles and crowns people are wearing don't mean a damn. What really matters is what people do. So I decided that if there's what I view as a trainwreck in progress, I should do something to fix it."
That trainwreck is the $199 trillion long-term fiscal gap the U.S. is facing, an issue that is at the center of his platform. He describes the gap as how much the government expects to pay in the future minus how much it projects to receive. Kotlikoff, who is a fellow of the prestigious American Academy of Arts and Sciences and a research associate of the National Bureau of Economic Research, has written multiple books about the issue and frequently pens columns for The New York Times, The Wall Street Journal, The Financial Times, Bloomberg and Forbes. 
"The official debt people talk about is the bushes in front of forest," he said. "Then you have the forest, which is what people are missing because they're not fitting it all together. Having an economist run for president is an enormous advantage to the country because we are trained from economic birth here in grad school to look carefully and analytically at the problems we're facing."
Despite his conservative economic policies, Kotlikoff said he's more liberal on social issues such as abortion, gay marriage, legalization of marijuana, mass incarceration, and gun control. He laid out his position and beliefs in a 157-page book that's published in its entirety on his website.
"Republicans think I'm a Democrat and Democrats think I'm a Republican," Kotlikoff, who has been called to testify in front of Congress on behalf of both parties, said. "That's not the point. Parties are the problem."
Right now, Kotlikoff said the country has a "know nothing" candidate and a "do nothing" candidate. But that's as far as he'll go to trash his opponents.
"If Mitt Romney needs a candidate because he can't support Trump, I can be his Republican candidate," he said. "I'm also happy to be any Bernie Sanders democratic candidate. My policies will do more to help the middle class than anything he has proposed."
Kotlikoff isn't interested in running a campaign with one-liners, slogans or pep rallies. He also insists he doesn't need a lot of money to win. He's counting on word-of-mouth and social media to add a viral element to his "write-in" campaign. Right now, he's one of more than 90 write-in candidates, according to "My Time to Vote." But unlike some of his fellow competitors, including Tom "Sketch" Brady, Mickey Mouse and "Riff Raff," Kotlikoff insists his campaign is no joke.
Despite it all, Kotlikoff said he'd have a hard time leaving his life in Boston, which became his adopted home once he started grad school at Harvard. Kotlikoff has been an economics professor at BU since 1984, and is an ardent Celtics fan. He also roots for the Red Sox "when they're doing well."
"We're not dying to be elected," he said. "I'd much prefer my job of living in Boston, doing research, writing books, it's a much easier life than worrying about a war with North Korea."
But Kotlikoff knows he's the man for the job, which is why, despite any quizzical looks or scoffs from doubters, he'll continue to campaign until the election.
"Make me what you'd like," he said. "But write me in."