Politics
Elizabeth Warren, Ed Markey among senators pushing to stop future 'Trump University-like entities'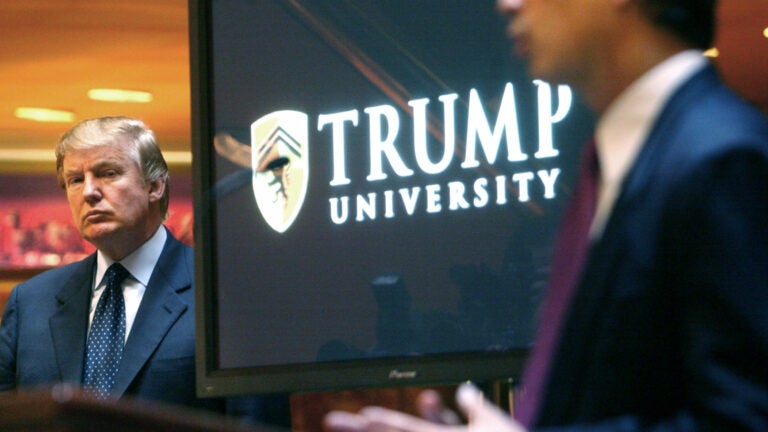 Massachusetts's Elizabeth Warren and Ed Markey are among 12 Democratic senators urging the government to implement measures to warn citizens about Trump University-like entities.
"We write today in light of mounting evidence that Trump University […] engaged in unfair and deceptive marketing and potentially fraudulent activity that deceived consumers regarding the company's status as a university," they wrote in a letter Thursday to federal agencies.
The now-defunct Trump University, which was 93-percent owned by presumptive Republican presidential nominee Donald Trump, is the subject of ongoing lawsuits alleging the for-profit school deceived and exploited students.
In their letter—addressed to the Department of Education, Federal Trade Commission, and Warren's own brainchild agency, the Consumer Financial Protection Bureau—the group of senators called the actions "unacceptable" and asked the government to take "proper and necessary steps to prevent the creation of additional Trump University-like entities."
Up to 10,000 individuals paid between $1,500 and $35,000 to attend seminars at the school, leaving them "little more than a worthless certificate and a pile of debt," the letter said. A former Trump University employee testified in 2012 that the school was "a fraudulent scheme."
Trump has defended the institution, citing high ratings from the Better Business Bureau and a 98 percent approval rating from students. But as FactCheck.org notes, Trump University was most recently given a D- rating from the BBB and the student surveys that Trump refers to "were not anonymous and were filled out during or immediately after sessions when participants were still expecting to receive future benefits from the program."
The letter Thursday also notes that instructors at Trump University were taught to use "deceptive and misleading tactics" to sell the courses, including manipulating the emotions of consumers and purposefully masking the school as an accredited educational institution.
The senators asked Thursday that federal agencies create a "consumer warning system" against businesses disguised as accredited higher education institutions. They also asked that agencies prioritize enforcement of safeguards against such businesses.
The letter comes as Democrats target several Republican senators on the campaign trail for ties to for-profit educational institutions. Florida's Marco Rubio, New Hampshire's Kelly Ayotte, and Pennsylvania's Pat Toomey are among the GOP senators running for re-election this year whose ties to schools, which are either under investigation or heavy scrutiny, are being highlighted by opponents.