Politics
Marty Walsh opens DNC speech: 'My name is Marty Walsh, and I'm an alcoholic'
In a speech on second chances, the Boston mayor explained why Hillary Clinton is his choice.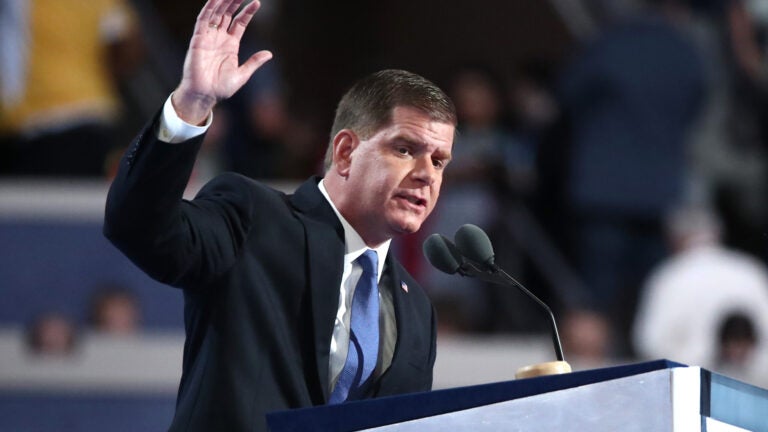 Marty Walsh had quite the opening line in his speech Monday night at the Democratic convention.
"Good evening. My name is Marty Walsh, and I'm an alcoholic," the Boston mayor said.
In his address to a packed convention floor at the Wells Fargo Center in Philadelphia, Walsh recalled hitting "rock bottom" in 1995.
"Everybody was losing faith in me—everybody except my family and the labor movement," he said.
Walsh—who would eventually serve as president of the local building trades union until he was elected mayor of Boston in 2013—has said he was able to get treatment through union's employee assistance program. The New York Times reported in 2013 that he still attended Alcoholics Anonymous meetings after 18 years of sobriety.
The second chance he received, Walsh said, inspired his career. It also tinted his speech Monday night.
"As mayor, I work to get everyone a fair shot and a second chance, whether it's in apprenticeships, free community college, or help starting a business," Walsh said.
In an impassioned speech, Walsh reiterated his firm support of Hillary Clinton as "the champion American workers need," while taking veiled and not-so-veiled shots at Republican nominee Donald Trump.
"[Clinton] believes in an America for those who need a helping hand: people with addictions, moms working two jobs, students with debt, seniors struggling to retire, workers facing layoffs—and people like the carpenters and electricians Donald Trump hired but then refused to pay, just because he could," Walsh said.
"We may not have our names in gold on the outside of any buildings we worked on," he said. "But our sweat, our work, and our pride are on the inside of every one of them."
The Democratic mayor's short, but energized speech also included the lines, "stronger together" and "an economy that works for everyone," both favored Clinton campaign slogans.
"I know where I stand," Walsh said.
"I stand with the women and the men of every race, creed, and color who built this country," he stated. "And I stand here as a living example of Hillary Clinton's vision for America: where everyone gets a fair shot and a second chance to achieve their dreams."