Politics
Introducing Elizabeth Warren, Rep. Joe Kennedy III explains what it was like to be in her law school class
(She sounds kinda tough.)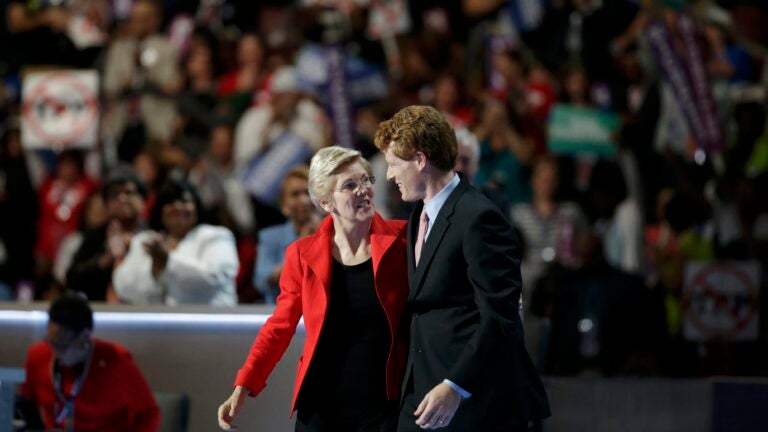 Rep. Joe Kennedy III began his remarks Monday night with a story: His first day at Harvard Law School.
"It was my first day of law school, my very class." the 35-year-old Massachusetts representative said, recalling a memory from the not-so-distant past. "The goal: Escape unscathed."
Spoiler alert: Not going to happen.
"Not three seconds in," Kennedy said, and he was challenged by his professor on the definition of assumpsit, a 14th-century term for a particular legal agreement.
The then-25-year-old law school student, and grandson of Robert F.Kennedy, was at a loss for words.
"'Mr. Kennedy, you realize assumpsit is the very first word in your reading,'" Kennedy continued, channeling his still-unidentified professor.
Kennedy had no idea what it meant, and said he had even circled the word in his book to indicate such.
""Mr. Kennedy, do you own a dictionary?'" he said, continuing to channel his professor. "'That's what people do when they don't know what a word means; they look it up in a dictionary.'"
"I never showed up unprepared for Professor Elizabeth Warren ever again," Kennedy said.
"She was the toughest teacher on campus, but the wait list for her class was a mile long" remembered the second-term fourth district congressman. "She pushed us hard, she brought out our best, she believed in us."
Kennedy went on to introduce his former law school professor, who now serves in the Senate seat of his late, great-uncle Ted Kennedy.
He called Warren "our government's gut-check" and "an anchor for the voiceless and victimized."
"She asks more from all of us, because she believes deeply in each of us," Kennedy said of Warren. "That faith in our country and the American people is the very foundation of our Democratic Party."
Warren's class also turned out pretty well for Kennedy, who met his wife in that same Harvard Law class.
Following his personal introduction Monday night, Kennedy and Warren—now classmates themselves, in a sense—embraced on stage.
Hopefully, he now knows the definition of assumpsit.