Politics
Kelly Ayotte 'appalled' by Donald Trump's remarks toward parents of slain Muslim-American soldier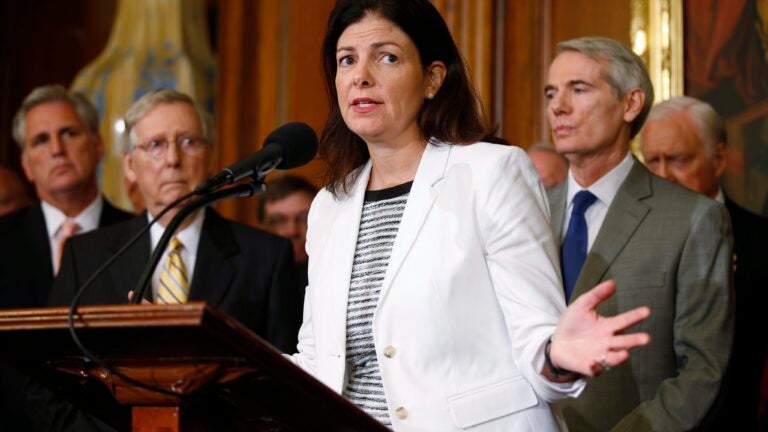 Republican Sen. Kelly Ayotte, whose own husband is an Iraq War veteran, is "appalled" by Donald Trump's criticism of the parents of a Muslim-American soldier who died fighting in Iraq.
"I am appalled that Donald Trump would disparage them and that he had the gall to compare his own sacrifices to those of a Gold Star family," the New Hampshire senator said in a statement, first reported Sunday by the Washington Post.
The Gold Star family (a term used for the immediate family of slain military members) Ayotte referred to is Khizr and Ghazala Khan, whose son, Army Capt. Humuyan Khan, was killed in 2004.
Following a prime-time Democratic convention speech, in which Khizr Khan lambasted Trump for his anti-Muslim immigration proposals, the two Pakistani-American parents have traded harsh criticism with the Republican presidential nominee.
Following the speech, Trump responded by criticizing Ghazala Khan for not speaking alongside her husband and insisting they had "no right to attack him."
In her statement Sunday, Ayotte—locked in a tight re-election bid—called Humayun Khan a "true American hero" and said the Khan family has "every right to express themselves in any way they choose."
Despite the firm rebuke, Ayotte, whose campaign did not immediately reply to request for comment Sunday, did not withdraw her support of her party's presidential nominee. Following Trump's questioning the integrity of a judge, whose parents were Mexican, the Republican senator said she had no plans of retracting her support.
The campaign of Ayotte's challenger, Democratic Gov. Maggie Hassan, called the senator's criticism of Trump "meaningless" in light of her support and questioned her judgment for continuing to support his presidential effort.
"Moral indignation isn't something one can have both ways," said Hassan campaign press secretary Meira Bernstein in a statement Sunday.
"Donald Trump's attacks on veterans, Gold Star families, Americans with disabilities, and the most vulnerable in our country aren't just random incidents for Kelly Ayotte to selectively distance herself from," Bernstein said.