Politics
Following criticism from fellow Republicans, Donald Trump singles out Kelly Ayotte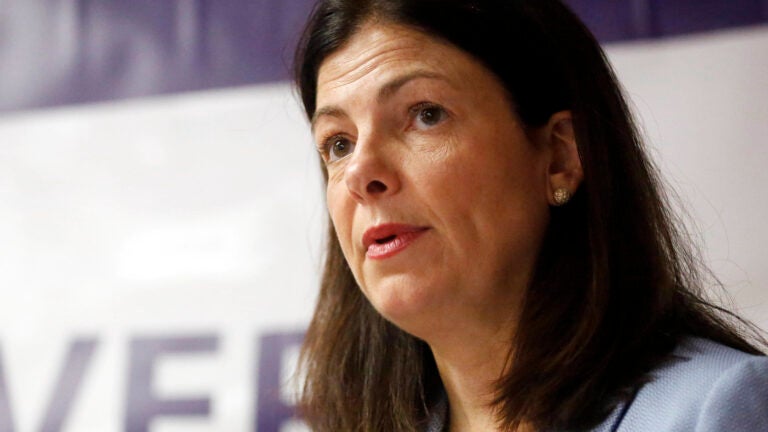 Facing a wave of intra-party criticism, Donald Trump is signalling that he may not support several high-profile Republicans in their 2016 re-election bids.
In an interview Tuesday with the Washington Post, Trump, the GOP nominee, refused to endorse House Speaker Paul Ryan and former presidential nominee Sen. John McCain—two Republicans who have from time to time criticized Trump, most recently for his criticism of the parents of fallen Army Captain Humayun Khan.
Also in the the cross-hairs of the ever-retributive Trump: Sen. Kelly Ayotte, a New Hampshire Republican who had also blasted Trump for his skirmish with the Khan family.
"New Hampshire is one of my favorite places," Trump told the Post.
Ayotte, however, is apparently not one of his favorite senators.
Trump questioned if she should even be in office.
"You have a Kelly Ayotte who doesn't want to talk about Trump, but I'm beating her in the polls by a lot," he said. "You tell me. Are these people that should be representing us, okay? You tell me."
Trump misleadingly continued on the subject of polling (more on than below), as well as Ayotte's lack of support. From the Post:
"I don't know Kelly Ayotte. I know she's given me no support — zero support — and yet I'm leading her in the polls. I'm doing very well in New Hampshire. We need loyal people in this country. We need fighters in this country. We don't need weak people. We have enough of them. We need fighters in this country. But Kelly Ayotte has given me zero support, and I'm doing great in New Hampshire."
Ayotte—seeking re-election this fall against Democratic challenger and New Hampshire Gov. Maggie Hassan—has said she would support, but not endorse, Trump.
Ayotte, whose husband is an Iraq War veteran, said Sunday she was "appalled" that Trump would "disparage" the Khan family. In June, Ayotte also repeatedly denounced Trump's remarks questioning the integrity of an American judge, whose parents were born in Mexico.
In a tweet Tuesday afternoon, she shot back: "I call it like I see it."
I call it like I see it and I'm always going to stand up for our military families and what's best for the people of New Hampshire.

— Kelly Ayotte (@KellyAyotte) August 2, 2016
The Trump campaign did not immediately respond to requests for comment Tuesday, or for clarification on the particular polls to which Trump was referring.
A RealClearPolitics average of recent New Hampshire polls shows Clinton leading Trump by four points in the state, 43 percent to 39 percent. Meanwhile, according to the RCP average, Ayotte is virtually tied with Hassan at roughly 45 percent support.
Additionally, a University of New Hampshire poll taken in July found that Ayotte was viewed favorably by 42 percent of likely New Hampshire voters, while 32 percent viewed Trump favorably. The poll also found that 40 percent viewed Ayotte unfavorably, while Trump was viewed unfavorably by 61 percent of Granite Staters.
The New Hampshire Republican Party—which, despite Trump's primary win in the state, has not been his biggest supporter—stood by their senator Tuesday.
https://twitter.com/NHGOP/status/760589583893590016