Politics
Clinton crushing Trump in New Hampshire in first post-convention poll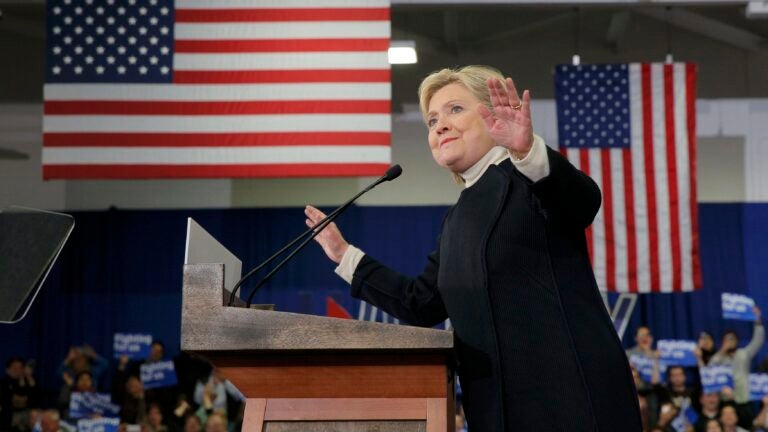 With just under 100 days until the presidential election, Hillary Clinton holds a commanding 15-point lead over Donald Trump in New Hampshire, according to a new poll from WBUR.
The poll, conducted from July 29 through August 1, shows Clinton with 47 percent of the vote, while Trump sits at a meager 32 percent. In addition, Libertarian candidate Gary Johnson took 8 percent of New Hampshire voters, while the Green Party's Jill Stein gets 3 percent.
Clinton's lead is a stark change from the last poll of New Hampshire, taken by WMUR from July 7 to July 18, which found Clinton leading by just two percentage points.
The new WBUR poll represents the first look at the Granite State since both major parties completed their conventions, and comes amid Trump's week-long battle with the family of a soldier killed in Iraq in 2004, which drew widespread condemnation from Republicans and Democrats.
The tight Senate race between Republican Sen. Kelly Ayotte and Democratic Gov. Maggie Hassan also appears to be moving in a similar direction toward the Democrat. Hassan received the support of 48 percent of New Hampshire voters, while Ayotte received 37 percent support.
A similar number of voters said they watched the Republican and Democratic conventions, but viewers came away with different conclusions. A total of 56 percent of those who watched the Democratic convention said Clinton came away "much" or "a little" stronger than before. On the other side, just 39 percent of those who watched the Republican convention said Trump came out of it much or a little stronger.
Back in New Hampshire's February primary, Clinton lost to Bernie Sanders by a 60-38 margin. But Democratic voters have overwhelmingly moved to Clinton, and she now gets the support of 86 percent of Democrats.
Trump's individual metrics are deeply negative. Just under 30 percent of New Hampshire voters view him favorably, while twice that number have an unfavorable view of the businessman. In addition, 63 percent of people said he is not fit to be president, according to the poll.
Clinton, meanwhile, is at an even 45-45 percent favorable-unfavorable rating.
The WBUR poll was based on the responses of 609 likely New Hampshire voters and has a margin of error of plus-or-minus 4 percentage points.