Politics
Supporters, protesters crowd Donald Trump rally in Portland, Maine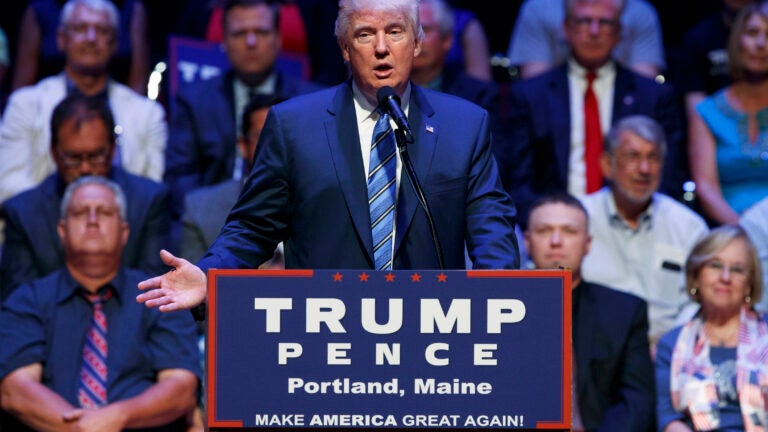 Republican presidential nominee Donald Trump addressed a crowd packed with supporters and opponents in Portland, Maine, Thursday afternoon.
"We have people [in Maine] that like Donald Trump," he said on stage at Merrill Auditorium. "We have people up here that are very, very proud of their country. They want to see great things happen."
But not everyone in the building liked the Donald. Several groups of protesters were kicked out of the auditorium during the rally, including a handful of people who held pocket-sized Constitutions in the air as a nod to Khizr Khan, the father of a fallen U.S. solider who denounced Trump at the Democratic National Convention by asking if the candidate had ever read the Constitution, and offering his copy for Trump to borrow.
"We're all looking for the same things, sort of," Trump said as several protesters were escorted out and supporters in the crowd booed them. "You want to have a good life, you want safety. And then we have people interrupting constantly."
While several groups stood out at his Portland rally, Trump said protesters haven't been coming to his rallies as frequently.
"I sort of miss my protesters," he said. "And you know, the Bernie people had spirit, but we don't get them from Hillary, because they don't care."
During his nearly hour-long speech, Trump touched on his usual points: Hillary Clinton's email scandal, blocking refugees from entering the country to seek political asylum, building a wall on the American-Mexican border, and the "quadruple" standard the media uses to portray him in an unfair light.
Trump also spoke about heroin, and its impact on rural New England — especially New Hampshire and Maine.
"It's so idyllic, so beautiful," he said. "They're coming mostly from the southern border. We're going to stop it 100 percent. Then we're going to work with people to get them unhooked."
He also noted that he was confident he could win all four of the Maine's delegates in the election.
"We're going to see many things," he said. "We want to see if we can win the whole state."
Unlike 48 of the states, Maine, along with Nebraska, awards its delegates by congressional district, meaning they could split between candidates based on the vote.
"The bottom line is this: You are going to be again, very proud of your country," Trump said. "You're going to—hopefully—be very proud of your president."