Politics
Donald Trump just gave Maine Gov. Paul LePage an open job offer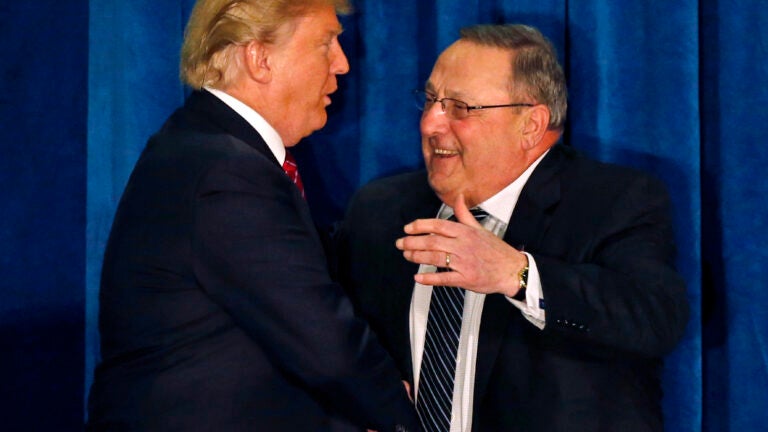 If Donald Trump becomes president, Maine Gov. Paul LePage can expect a friend in the White House—and a new job opportunity.
In an interview with the Portland Press-Herald on Thursday, Trump applauded the Republican governor and said LePage had an open offer if he were interested.
"I don't know that he would want that, but he is a very talented guy, he is also a great person, a tremendous person, and if he were available, I would certainly find something for Paul because he's done a great job up here," Trump said. "He's not only popular, he's done an unbelievable job, so I would certainly say that he would be a candidate."
Trump spoke in Portland on Thursday and, like at other Trump rallies in Maine over the past year, he was introduced by LePage. The two politicians both have backgrounds in business and wield brash personas, forming what The Boston Globe recently called a "bromance."
LePage has previously joked that he would be open to working in a Trump administration—as "ambassador to Canada in the summer and Jamaica in the winter," he said in May.
Trump, in his interview, said he planned to win Maine's four electoral votes and repeatedly praised LePage.
"There is a little bit of a strategy there. I'm up here, I've got friends up here, we can see our friends," he said. "I have a lot of respect for your governor. Paul is terrific, he's doing a great job."
In his introduction, LePage reiterated his support for Trump amid the backlash to his recent attacks on the Muslim family of a soldier who was killed in Iraq.
"The last few days, the media has been asking me, 'Are you still supporting Donald Trump?'" he said. "The answer is very simple: Yes. More than ever."