Politics
Echoing Romney, Susan Collins says she would vote for the Libertarian ticket if Bill Weld were the nominee
"I know Bill Weld well and I respect him a great deal."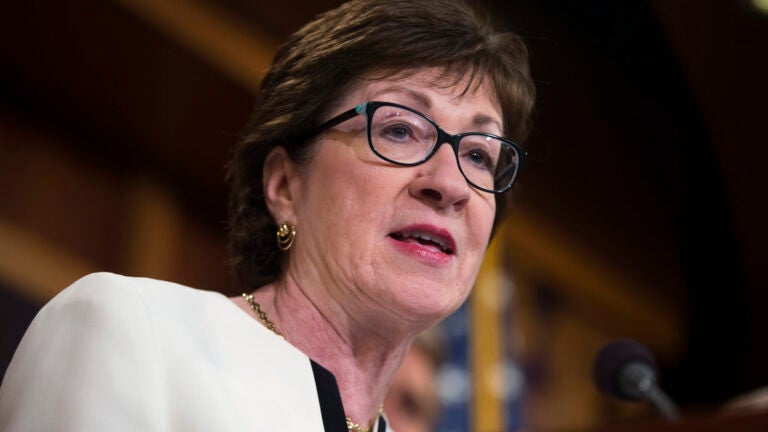 On this much Sen. Susan Collins is clear: She's not voting for her party's presidential nominee, Donald Trump. And she also won't vote for Hillary Clinton.
Having ruled out the two major party nominees, would the moderate Republican Mainer vote for a third-party presidential candidate?
In a CNN interview Tuesday, Collins said she would, if only the Libertarian ticket was flipped, with vice presidential nominee and former Massachusetts Gov. Bill Weld at the top—rather than former New Mexico Gov. Gary Johnson, the party's current nominee.
"If the Libertarian ticket were reversed with Governor Bill Weld, former governor of Massachusetts, leading that ticket, then I would vote for the Libertarian ticket because I know Bill Weld well and I respect him a great deal," Collins said, adding that she did not know Johnson and was "concerned" about his views on drug policy.
"I will have to take a hard look at that," said Collins, who, unlike Johnson, opposes legalizing recreational marijuana.
Collins's consideration of the Libertarian ticket nearly mirrors the sentiment expressed by 2012 Republican presidential nominee Mitt Romney.
"I wish Bill Weld were at the top, because I knew Bill Weld as the governor of my state, Massachusetts, and he was a terrific governor," Romney said in June.
However, the former Massachusetts governor said he did not know Johnson as well and has specifically cited the Libertarian nominee's support for marijuana legalization.
"Marijuana," Romney said, "makes people stupid."
For what it's worth, Weld has said he supports a ballot measure to legalize and regulate marijuana in the state of Massachusetts. During his time as governor of Massachusetts in the 1990s, Weld, a former Republican, was one of few among his party to support legalizing medical marijuana.
In the interview Tuesday, Collins also suggested she may cast a write-in vote for president this November. Asked by NBC News's Hallie Jackson who she might write in, Collins noted her support for former Florida Gov. Jeb Bush during the Republican primary.
Collins said this year will mark the first time that she, a lifelong Republican, did not support the GOP presidential nominee.