Politics
In upcoming Washington Post biography, Donald Trump struggles to name any real friends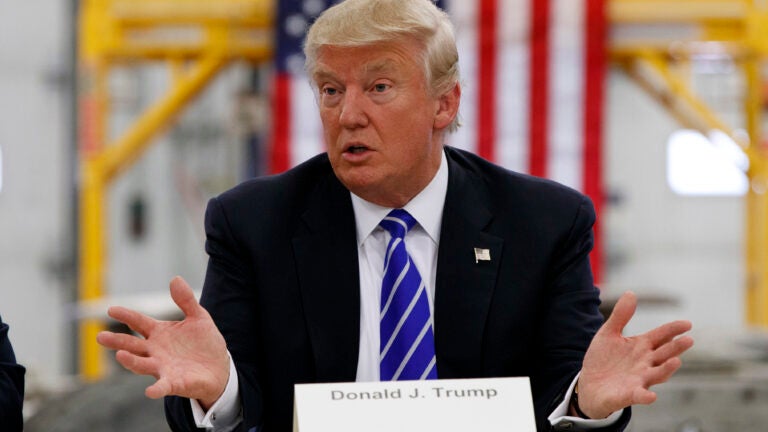 Since April, a team of Washington Post reporters have been working on a biography of Republican presidential nominee Donald Trump. Despite banning the Post from covering his events, Trump reportedly spent more than 20 hours talking to reporters for the book.
Maybe he just wanted the company.
The first excerpt of "Trump Revealed" was released Friday, and it paints a portrait of a man who has few personal relationships outside of his immediate family.
As Marc Fisher and Michael Kranish put it: Trump "never really had close friends."
As far back as 1980, he had told TV interviewer Rona Barrett, "My business is so all-encompassing that I don't really get the pleasure of being with friends that much, frankly." She pressed him: Whom would you call if you were in trouble and your family wasn't around? "Maybe I'd call you, Rona," he said.

Thirty-six years later, when we asked Trump about his friendships, he took a considerable, unusual pause, and then said: "Well, it's an interesting question. Most of my friendships are business-related because those are the only people I meet. The people I meet, really, I guess I could say socially, when you go out to a charity event or something. . . . I have people that I haven't spoken to in years, but I think they're friends." And he named — off the record — three men he had had business dealings with two or more decades before, men he had seen only rarely in recent years.
Trump went on to assert that he has "a lot of friends."
"But they're not friends like perhaps other people have friends, where they're together all the time and they go out to dinner all the time," he said. If faced with a personal issue, Trump said he would turn to a family member.
As the Post reported in June, Trump's adult children, as well as his son-in-law, Jared Kushner, are his closest advisers within the Republican's meagerly-staffed presidential campaign. Per the biography excerpt released Friday, Trump "often struggled" to answer questions that ranged outside of business or politics.
A Mother Jones article last December asked the question "Does Donald Trump Have Any Friends?" Citing the real estate mogul's eye-for-an-eye attack strategy, as well as an apparent silence from the New York development community, the article concluded it was unlikely that Trump had any long-term relationships outside of his family members or employees.
"He's more of a homebody than you'd think," Richard LeFrak, a New York real-estate developer, told The New York Times in March. LeFrak said he had known Trump for more than 40 years and considered himself to be a friend.
"He's very gregarious and has lots of acquaintances," LeFrak told the Times. "But people that he's close to? Not so many."
LeFrak—referring to his Trump's energetic, yet retributive, personality—later added: "Being friends with Trump is like being friends with a hurricane."
Asked by the Times to name his "best friends," the Trump campaign pointed to LeFrak and Howard Lorber, a fellow investor and CEO of Vector Group, whose son once appeared as a judge of Trump's TV show, The Apprentice.
"He doesn't really have a lot of friends," Trump's former colleague and fellow developer Billy Procida told the Times. "Pretty much all he does is work and play golf."