Politics
'AY-aht' versus 'HASS-in': Why can't anyone pronounce the candidates in New Hampshire's crucial Senate race?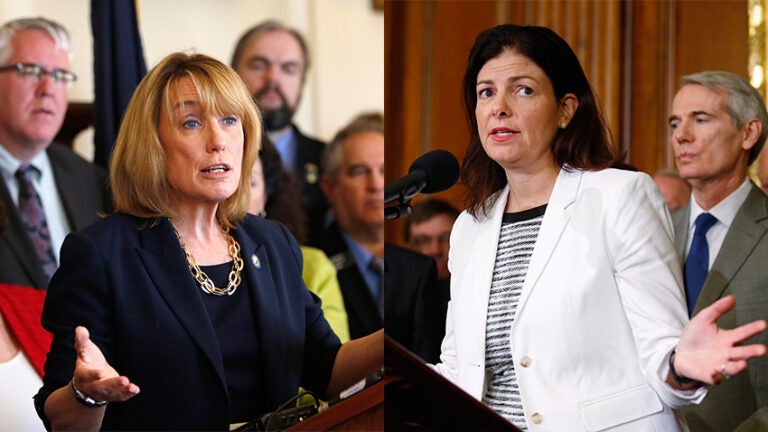 If you're finding yourself a bit uncertain how to pronounce the names of the two candidates in New Hampshire's 2016 Senate race, well, you're in good company.
The last names of Sen. Kelly Ayotte and Gov. Maggie Hassan combine for four oft-mistaken syllables—particularly so, for such a high-profile race.
In fact, Ayotte, the Republican incumbent, and Hassan, the Democratic challenger, may be the only two Senate candidates in recent memory to have their names publicly botched by the leader of the free world.
In an interview with New Hampshire-based TV station WMUR last May, President Barack Obama mangled Ayotte's name while calling out Republican senators for not holding a hearing for his Supreme Court nominee.
"I know that folks like Senator A-eye-otte met with him, and the fact that they're not calling a hearing or a vote, means they're not doing their job," Obama said, managing to rhyme "Ayotte" with "vote."
The senator's mispronunciation woes, however, are not a strictly partisan issue.
In 2013, Republican National Committee Chair Reince Preibus (himself a victim of frequent mispronunciation) also muffed Ayotte's name at a fundraiser—not once, but twice, as Patch reported at the time.
At the NH GOP's sold out dinner on May 20, Priebus mispronounced Ayotte's name not once, but twice, calling her "Eye-yotte" and not "Ay-yotte."

Democrats pounced on the mangling, with new NHDP Communications Director Harrell Kirstein posting on Twitter: "Nothing says rising star like your party chair mispronouncing your name. Twice. In your home state."
A brief online search reveals that Ayotte, in part due to the nature of the alphabet, lands atop multiple congressional pronunciation guides.
The Ayotte family is not unaware about the ambiguity surrounding the surname. However, according to Ayotte, her "Memere" (her father's mother, who she said raised six children while also working on the railroad) was a bit frustrated with the confusion surrounding the name as her granddaughter began her political career. And so, Ayotte says, her Memere devised a helpful tip.
"When I first ran for office, she was so proud, but it bothered her that people kept mispronouncing my name," the senator said in an email. "So she came up with a clever way to let people know how to say it: 'It's not a boat, it's Ayotte.'"
Ayotte has kept the French-Canadian surname through her 15-year marriage.
Not to be outdone, Ayotte's Democratic challenger has also had her name botched by prominent colleagues.
While stumping for Hassan in Nashua in the summer of 2012, former President Bill Clinton "stumbled twice" on how to pronounce the last name of the now two-term governor, according to the Nashua Telegraph.
Indeed, video of the event shows Clinton pronouncing the last name then-candidate he was endorsing "Ha-SAHN." Perhaps uncoincidentally, Clinton most frequently referred to Hassan by her first name during his speech.
Two days after winning re-election in 2014, Hassan was mentioned in a prompt about on the game show Jeopardy ("Women in Government," for $1200, for those wondering).
Of course, host Alex Trebek messed up her name, as well as the pronunciation of New Hampshire's capital city, Concord, according to several accounts at the time.
A few months later, during her inauguration in 2015 to a second term, Hassan had her name again mispronounced. As NHPR reported, New Hampshire Speaker of the House Shawn Jasper pronounced the governor's name "Ha-SAHN" as he called up the governor to take her oath of office. Jasper later apologized.
Speaker Jasper botches pronunciation of Hassan. Shades of @billclinton.

— Josh Rogers (@joshrogersNHPR) January 8, 2015
Born with the surname Wood, Hassan adopted her last name when she married her husband. According to the governor's spokesman, William Hinkle, the name is Irish by heritage.
"If questions come up, we guide people to pronounce the Governor's last name as HASS-in, sounds like 'fasten,'" Hinkle said.
Easy enough.
And yet, with less than three months left in a race likely to set state spending records, people keep on messing up Ayotte and Hassan's names—even from within the two well-liked candidates' respective parties.
In a Keepin' it 1600 podcast last Thursday, Jon Favreau, the former chief speechwriter for President Obama, pronounced Hassan, "Ha-SAHN." It was the second straight week Favreau made the mistake on the podcast, which he co-hosts.
Also on Thursday, Mike Murphy, a Republican consultant who most recently directed Jeb Bush's super PAC, went on Slate's The Gist podcast and pulled a Priebus, so to speak—referring to New Hampshire's junior senator as "EYE-yotte."
Murphy, who was apparently making the podcast rounds last Thursday, also made a guest appearance on the Keepin' it 1600 episode that same day. When the topic of Republicans in battleground states came up, he referred to Ayotte simply as "Kelly."