Politics
Maura Healey says she won't run against Gov. Charlie Baker in 2018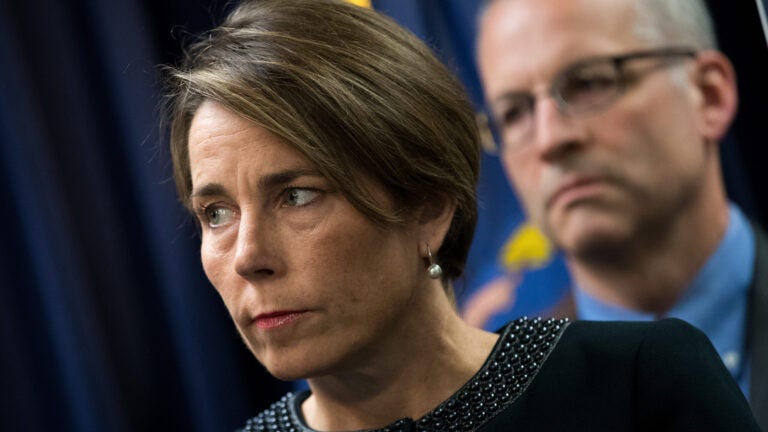 It looks like Maura Healey won't be following in the footsteps of her predecessor.
In a Fox25 interview Tuesday, the Massachusetts attorney general said she won't challenge incumbent Republican Gov. Charlie Baker in 2018.
"Absolutely," Healey, a Democrat, repeated, when asked if she had ruled out a run for higher office.
Healey has been among the handful of names tossed around by Democrats for a potential 2018 gubernatorial run, most recently at the party's state convention in June.
Despite Massachusetts' dark blue electorate (a Gallup poll found it to be the most liberal state in the country last year), surmounting a run against Baker may be daunting for Democrats.
The Republican governor has enjoyed sky-high approval ratings since taking office, and has also amassed $3.7 million (and counting) in campaign funds. As the Boston Globe wrote last month, citing Democratic insiders, anyone who takes on Baker in 2018 "would be viewed largely as a sacrificial lamb."
Outside of Healey, as State House News Service reported at the convention, possible challengers mentioned by Democrats included Rep. Michael Capuano and Somerville Mayor Joseph Curtatone. The Globe reported in March that Dan Wolf, a liberal state senator from the Cape, is pondering a run.
Healey, who was first elected attorney general in 2014, was also ambiguous when asked whether she planned to run for re-election in 2018, answering similarly to another high-profile Bay State Democrat.
"I love what I'm doing," she said. "I'm hoping to do it to the best of my ability every day."
In the interview Tuesday, Healey also defended her decision to broaden the state's assault weapons ban to close a "loophole" in the law, in which illegal guns manufactured with slight differences were allowed. The move put the attorney general at odds with the Baker administration, which said Healey set an "unclear" precedent. Healey's office called the pushback "surprising."
"This is a matter of enforcing existing law," the attorney general said in the interview Tuesday.
Asked if she was trying to advance her political career with the crackdown, Healey said "[that] couldn't be further from the truth," and that the critics suggesting such "were absolutely wrong."