Politics
The Trump yard sign-stealing epidemic has gotten seriously out-of-hand in Massachusetts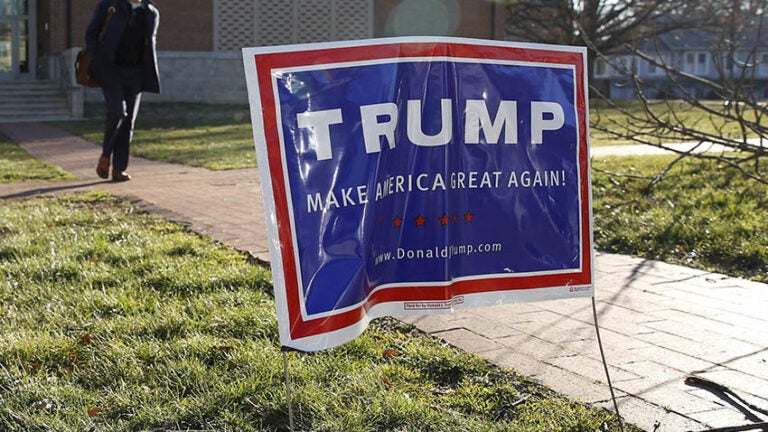 In Democrat-heavy Massachusetts, being a Donald Trump supporter is not easy. And as some are finding out, expressing their support for the Republican presidential nominee can be even harder.
As a number of Bay State residents have learned, others do not take kindly to the navy-and-white Trump yard signs.
Most recently, as The Boston Globe reported, a Walpole resident affixed his Trump sign to a tree after having two previous signs stolen. On Wednesday, the resident reported to police that his sign had been stolen a third time.
And this time, the thief, apparently viewing the change in placement as a challenge, left behind a rather rudely-worded note.
Letter left by #DonaldTrump sign thief in Walpole after 3rd stolen sign. @universalhub pic.twitter.com/ANJuJtafYU

— kevin connolly (@ktc67) August 18, 2016
"I can only believe that you thought you were outsmarting me when you put the sign on the tree," the self-identified thief wrote. "This is clearly false, because there is no way that a trump [sic] supporter can outsmart anyone. People of your kind are in fact, the most dimwitted, low level, simpletons that any well-developed nation has to offer."
Victor Scena, chairman of the Walpole Republican Town Committee, told the Globe that 15 Trump signs in the town had been reported stolen. Scena added that the letter's author was "a sick individual."
Last week, a resident in Marblehead had their Trump sign stolen for the seventh time. The theft, which occurred late at night on August 9, was even caught on tape and posted by police.
Do you recognize this suspect or vehicle?Marblehead Police are investigating the seventh theft/vandalism of a political campaign sign from a residential home on Harbor Avenue.This theft occurred late last evening. The suspects made one pass at approximately 9:28pm and then returned again around 10:21pm to complete the crime.Regardless of political affiliations, trespassing on private property and the taking of something that doesn't belong to you (which under MA law is considered Larceny) can land a person in court with hefty fines, the possibility of jail time and a criminal record.Clearly the woman depicted here is old enough to know better!Any information that leads to the identity of the suspect would be appreciated. Please contact us at 781-631-1212

Posted by Marblehead Police Department on Wednesday, August 10, 2016
"Regardless of political affiliations, trespassing on private property and the taking of something that doesn't belong to you (which under MA law is considered Larceny) can land a person in court with hefty fines, the possibility of jail time and a criminal record," Marblehead police reminded residents.
After being replaced, the home's Trump sign was stolen an eighth time this past weekend.
Though Trump was officially nominated this past July, stealing the Republican candidate's signs are nothing new in the Bay State.
A Northampton metal works company reported having its $500-worth custom-made Trump sign stolen in April, after its previous $1,000-worth Trump sign was stolen in March.
Last December, Bridgewater resident Joe Ricci told police he recognized his 16-year-old neighbor stealing his Trump sign after installing a surveillance camera to watch over his property. Ricci said he previously had 13 signs stolen over the course of four to five months.
While police evaluated his total losses at just $26, Ricci said it was more an issue of free speech.
"You can have your opinion, you can say what you want, but you can't steal things. You can have a Hillary sign straight across the street, and I can disagree with it, but I can't steal it," he told NECN.
And in November, an Andover resident's property was swarmed by police in response to a suspicious-looking black box taped to his handmade Trump sign.
However, as the Eagle-Tribune reported, the device was an old stereo equalizer that 75-year-old Arthur Gonsalves intended to make appear as a "booby trap" to protect his Trump sign. Gonsalves said sign stealing had been a recurring problem.
When Trump signs aren't being stolen, some are simply being ruined.
Last week, a 57-year-old North Reading woman pleaded not guilty after she was arrested for allegedly defacing a Trump sign in Andover with spray paint. When the sign's owner confronted the woman, she allegedly nearly hit the man with her car while trying to flee the scene.
That same week, a Haverhill man told WWLP that he had nine Trump signs ripped from his yard and tossed into the street, and another spray-painted with the word "Never."
In April, a Trump supporter in Northborough told NECN he had four or five Trump signs taken from his yard and tossed into the street, only after he chased down the most recent culprit.
In March, a giant Trump sign in Dorchester was profanely vandalized with spray-paint, according to the Dorchester Reporter. However, the owner, a 79-year-old woman, said she was keeping the sign up (after police hosed off the expletives) until she could get it replaced by the campaign.
And in January, a large Trump sign in Hull mysteriously caught fire overnight.
The destruction and disappearance of Trump signs are hardly exclusive to Massachusetts. Yet, the recent preponderance of thefts has even sparked an editorial piece from a paper in Newburyport denouncing the practice.
"Americans shouldn't have to install security systems or call police to defend their First Amendment rights to political speech," the Daily News of Newburyport wrote. "Shame on those who trample on those rights."
At this rate, it's tough to say whose chances are worse: a Trump sign in Massachusetts, or the candidate himself in November.