Politics
At closed-door Provincetown fundraiser for Hillary Clinton, Cher tells crowd that Trump is 'a [expletive] idiot'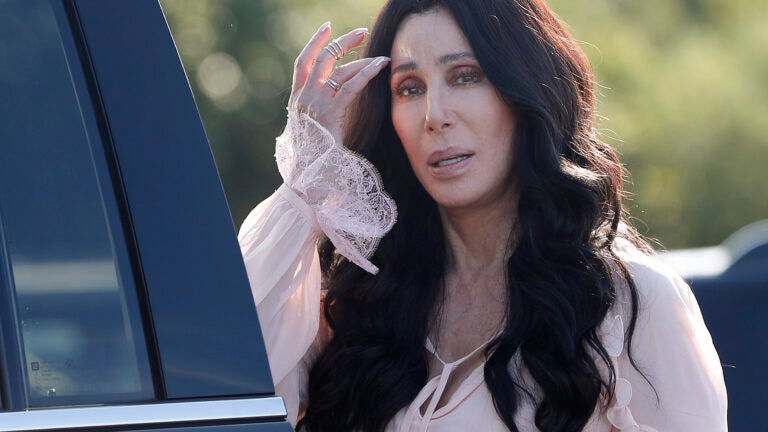 Maybe Hillary Clinton's fundraiser Sunday in Provincetown was closed to the public for good reason.
Introducing Clinton to a crowd of supporters Sunday, a candid and unfiltered Cher went off on Donald Trump, as one only can in front of a private crowd.
"I just think he's a f[—]ing idiot," the famed singer said.
It was one of many lines during Cher's 16-minute speech, which was posted on Facebook by a fundraiser attendee, that garnered loud applause from the audience.
https://www.facebook.com/erictruro/videos/10154623201713984/?permPage=1
The video, first reported Tuesday by The New York Times, revealed Cher, as well as Clinton, the Democratic presidential nominee, departing from the more-measured campaign talking points. As is typical of campaign fundraisers, media were not allowed inside to cover the event.
According to the Cape Cod Times, roughly 1,000 people, including Sen. Ed Markey, Attorney General Maura Healey, and tennis legend Billie Jean King, attended the early-afternoon fundraiser.
Clinton also addressed the private audience Sunday; a portion of her speech was also uploaded to Facebook here. She told the crowd that the event raised $1.5 million for the campaign.
For her own part, Cher was relentless and unequivocal in denouncing the Republican nominee, riffing off Trump's slogan, "Make America Great Again."
"He means we want to make America straight and white," the 70-year-old singer, who is considered a gay icon, told the audience in Provincetown, which has the highest density of same-sex couples in the nation, per census data.
Cher ridiculed  Trump's recent attempts to appeal to the LGBT community—despite opposing same-sex marriage.
"He just says like the weirdest s[—]," she said, mocking the candidate's grasp of the LGBT acronym. "And also, I love this, he's like 'L-G-B-T…and Q?' Like he just learned it, you know?"
It was shortly thereafter that Cher delivered the aforementioned, colorful line to sustained applause.
"I just wish he'd fall off the face of the earth," she added.
The singer, who has been as forceful on Twitter in condemning Trump, went on to compare the candidate to "despots" like Adolf Hitler and Joseph Stalin, as well as a child villain from a 1950s hit horror film.
It wasn't all Trump-bashing though.
Cher praised Clinton's toughness and her efforts to pass healthcare reform as First Lady in the 1990s. However, she also admitted that Clinton can be "shy" and is "not the greatest speaker in the world."
Whatever Clinton's flaws are, Cher said they areoutweighed by what Trump would bring to the presidency.
"I believe in her so much and I know if he got into office the world would be the worst place," she said. "I don't think we could imagine how bad it could get. … If breaking news ever happened and he had to go to the podium, we would just all go 'f[—].'"
The crowd laughed.