Politics
Charlie Baker signs law that bans people from leaving pets in dangerously hot cars
Because obviously.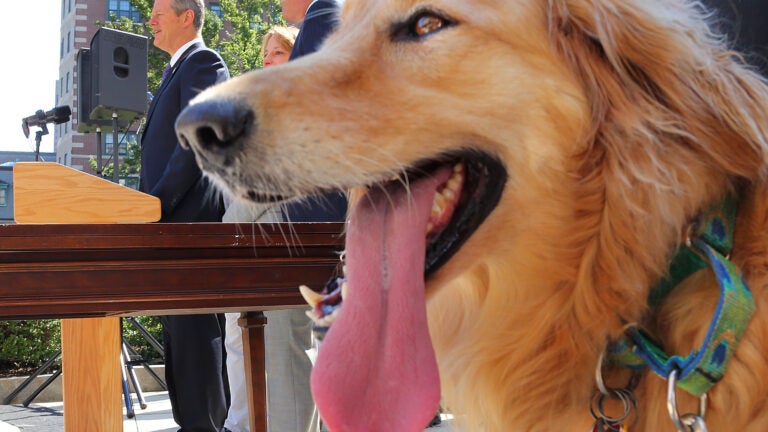 What has long been common sense is now law in Massachusetts: Don't leave your pets in hot cars.
Gov. Charlie Baker signed a bill Wednesday that makes it illegal to leave animals in vehicles where they are subject to danger from extreme weather conditions.
The new law, which carries a civil penalty of up to $150 for first offenses, also grants first responders criminal and civil immunity to act to save pets from vehicles in which they are endangered. The law also allows bystanders to save animals from cars, as long as they are acting in good faith, notify law enforcement beforehand, and use no more than "reasonable" force.
Owners who are repeatedly cited for leaving their pets in a vehicle during extreme heat or cold are subject to $300 and $500 fines for second and third offenses, respectively.
"While we hope and expect no one should ever have to act to save a pet or child from such dangerous conditions, we understand those situations unfortunately do arise and lives can depend on a quick response," said Baker, whose family owns a schnoodle (schnauzer-poodle mix) named Lucy.
During a signing ceremony Wednesday, the Republican governor was joined outside the State House by dogs from the MSPCA, Animal Rescue League of Boston, and the Massachusetts Humane Society.
The law also limits the amount of time a dog can be tethered outside from 24 consecutive hours to five hours. Additionally, it bans owners from tethering pets outside for more than 15 supervised minutes during the hours 10 p.m. to 6 a.m. or during weather considered adverse to the dog's health or safety.
The bill, which was sponsored by New Bedford state Sen. Mark Montigny, passed the Senate unanimously on June 28.
As State House News Service reported earlier this month, Florida, Ohio, Tennesee, Vermont, and Wisconsin already have laws on the books allowing citizens to take action to save animals in dangerously hot cars.
"This legislation will ensure that reckless and abusive owners face stiff penalties and empower local authorities and the general public to contribute to the well-being of our four-legged friends," Montigny said in a statement Wednesday.