Politics
Bernie Sanders's new political organization backs 4 Massachusetts candidates
The "revolution" continues in the Bay State.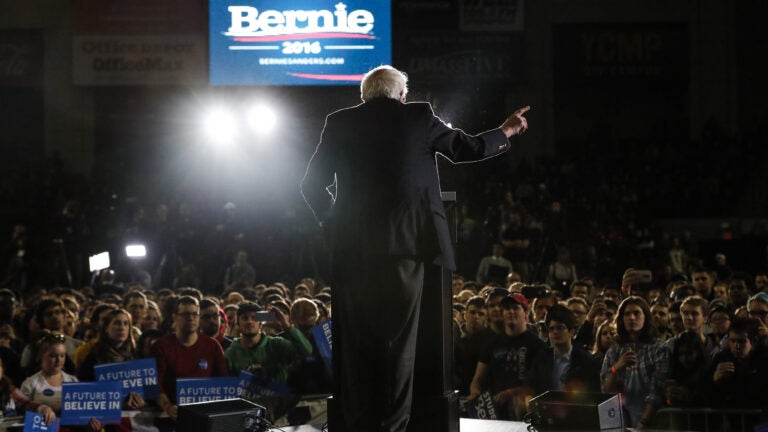 Our Revolution, a post-presidential campaign political organization spearheaded by Bernie Sanders and his supporters, has endorsed four Democratic candidates in local Massachusetts House and Senate races.
According to the group's website, Our Revolution is backing Sen. Jamie Eldridge, of Acton; Rep. Mary Keefe, of Worcester; state representative candidate Mike Connolly, of Cambridge; and Sen. Pat Jehlen, of Somerville.
Eldridge, a 43-year-old incumbent, is looking to fend off his Middlesex and Worcester District senate seat from Republican challenger Ted Busiek. Keefe, a two-term state representative for the 15th Worcester District, faces a challenge from unenrolled candidate Ralph Perez, who unsuccessfully ran for the seat in 2014 as a Democrat. Connolly, meanwhile, is running for the 26th Middlesex District House seat against incumbent Democrat Tim Toomey, who has been in office since 1993. And lastly, Jehlen, a longtime state legislator, is fighting off a primary challenge from a fellow Democrat, Cambridge city councilor and former state lieutenant govenor candidate Leland Cheung.
All four candidates endorsed by Our Revolution supported Sanders during the Democratic primary.
In a live-streamed speech Wednesday night in Burlington, the Vermont senator touted the newly launched group as the next phase of the "political revolution" he sprung during his primary contest against eventual Democratic presidential nominee Hillary Clinton. Hitting on many of the principles of his campaign—single-payer healthcare, tuition-free public college, and fighting economic inequality, among others—Sanders celebrated the achievements of his campaign and called for a continued movement to elect progressive candidates in down-ballot races across the country.
"Over time, Our Revolution will involve hundreds of thousands of people," Sanders said Wednesday. "These are people who will be fighting at the grassroots level for changes in their local school boards, in their city councils, in their state legislatures, and in their representation in Washington. Not only that, they will be involved in major ballot items dealing with campaign finance issues, environmental issues, health care issues, labor issues, gender-related issues, and doing all that they can, in every way, to create an America based on the principles of economic, social, racial, and environmental justice."
While Sanders himself is expect to stump for a number of candidates, he will not be leading the new organization—which has gotten off to a rocky start.
As the Washington Post reported Wednesday, eight of Our Revolution's initial 15 staffers resigned amid disagreement over the group's strategy, after Sanders's former campaign manager Jeff Weaver was brought in as president of the organization. Additionally, questions loom over the group's status as a 501(c)(4) nonprofit, which would potentially allows it to collect the unlimited donations—the same of sort of "dark money" Sanders rails against.
Weaver, however, told the Post that Our Revolution will "rely primarily on small donations."
Eldridge, for his part, seems to be all-in on the "reform-from-within approach," as The Boston Globe reported Wednesday. Emailing Sanders supporters, the Acton Democrat called for conservative members of the party to be unseated by progressives.
"I personally think the time is ripe … for Sanders supporters/progressives to 'take over' the Massachusetts Democratic Party, and have a serious influence on its platform, candidates, and policies," he wrote.