Politics
Maine Gov. Paul LePage: Most drug dealers arrested are black, Hispanic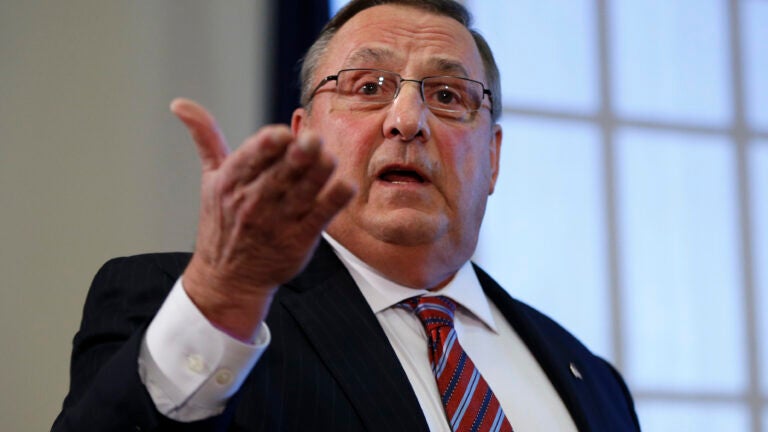 NORTH BERWICK, Maine (AP) — Republican Gov. Paul LePage is being accused again of making racially insensitive comments, this time by saying photos he's collected in a binder of drug dealers arrested in the state show more than 90 percent of them are black or Hispanic.
The governor made the remark at a town hall in North Berwick on Wednesday, a day he also said the father of a dead Muslim U.S. Army captain is a ''con artist'' for criticizing GOP presidential nominee Donald Trump.
LePage's comment about the drug dealers came after a businessman asked how he could bring a company to Maine ''given the rhetoric you put out there about people of color,'' the Portland Press Herald reported.
LePage, who's white, said he keeps a three-ring binder of photos from drug busts and most ''are black and Hispanic people from Waterbury, Connecticut; the Bronx; and Brooklyn.''
Some critics called his comments racially charged. He said during the event he's not racist and he's concerned that out-of-state drug dealers are bringing heroin into the state. On Thursday, he told the Portland Press Herald his focus on the drug crisis is tainted by his opponents playing ''election year politics.''
Also Wednesday, LePage, on a program hosted by Boston radio personality Howie Carr, referenced Khizr Khan, whose son was killed while protecting other soldiers in Iraq. Khan appeared at the Democratic National Convention, at which Hillary Clinton received her party's presidential nomination, and held up a copy of the U.S. Constitution while criticizing Trump.
Khan, a Muslim who came to the U.S. from the United Arab Emirates, accused Trump of smearing the character of Muslims and said his late son wouldn't have been allowed in the country if Trump's ban on Muslims was in place.
''Let me ask you, have you even read the United States Constitution?'' Khan said in his speech, directing his words at Trump and pulling a pocket-size Constitution from his jacket. ''I will gladly lend you my copy.''
Maine Public Broadcasting Network reported LePage's comments about Khan came after Carr drew a comparison between the Boston Marathon bombers and an Iranian refugee who moved to Maine and later died fighting for the Islamic State group. LePage said Khan ''uses the death of his son'' to go after Trump.
LePage, in his second term as governor, is a supporter of Trump. His daughter Lauren LePage has been hired by Trump and vice presidential candidate Mike Pence to work as the state's coalitions director.
In January, Paul LePage said drug dealers with names like ''D-Money, Smoothie, Shifty'' are getting Maine's white girls pregnant. He later apologized, saying he meant to say ''Maine women'' and not ''white women.''
Rachel Healy, communications director for the American Civil Liberties Union of Maine, said the governor should take the opportunity to combat unconstitutional racial profiling. Democrats were also swift to condemn LePage's comments.
Democratic House Speaker Mark Eves, who lives in North Berwick, said he was ''disgusted'' by the governor's ''racially charged'' comments in his hometown.
''If the governor is looking for something productive to do with his time, he should focus on ending Maine's drug crisis by giving law enforcement the resources they need to crack down on drug dealers, help stop addiction before it starts by providing education at an early age and make treatment services with a proven track record of success available to Mainers suffering from addiction,'' said Eves, a frequent opponent of the governor.