Politics
Gov. Paul LePage leaves obscene voicemail, challenges legislator to duel
"I want you to record this and make it public because I am after you."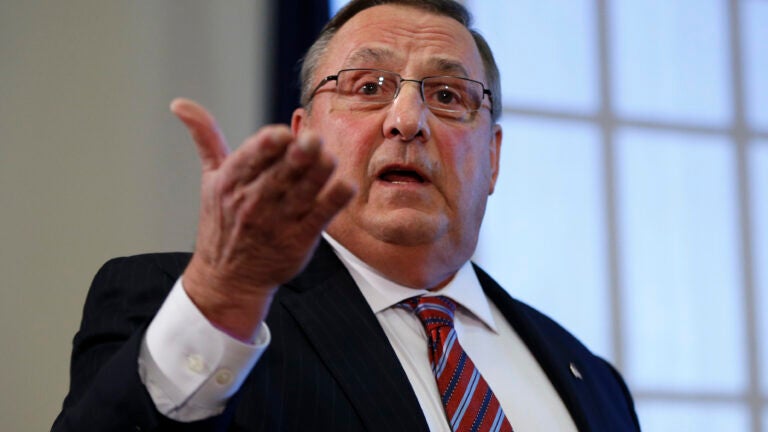 Ever the newsmaker, Maine Gov. Paul LePage took his schtick to another level on Thursday.
Over the course of a few hours, LePage defended his previous racially charged comments, left an aggressive voicemail with homophobic cursewords on a legislator's answering machine, challenged that legislator to a duel, and threatened to shoot him between the eyes.
The Portland Press Herald has the details and a recording of the voicemail left for Democratic Rep. Drew Gattine:
"Mr. Gattine, this is Gov. Paul Richard LePage. I would like to talk to you about your comments about my being a racist, you c—sucker. I want to talk to you. I want you to prove that I'm a racist. I've spent my life helping black people and you little son-of-a-bitch, socialist c—sucker. You … I need you to, just friggin. I want you to record this and make it public because I am after you. Thank you."
You're welcome, governor.
Gattine, for his part, denied calling LePage a "racist" at all, the Press Herald reports. Even so, LePage invited reporters to a follow-up interview and said he wished he could pull an Aaron Burr and challenge Gattine to a duel.
"When a snot-nosed little guy from Westbrook calls me a racist, now I'd like him to come up here because, tell you right now, I wish it were 1825," LePage said. "And we would have a duel, that's how angry I am, and I would not put my gun in the air, I guarantee you, I would not be [Alexander] Hamilton. I would point it right between his eyes, because he is a snot-nosed little runt and he has not done a damn thing since he's been in this Legislature to help move the state forward."
Hamilton, one of America's founding fathers, was killed in a duel by Burr, his longtime political rival, in 1804.
The voicemail came a day after LePage said that he had collected a three-ring binder of photos of those arrested for drug dealing in Maine, and that 90 percent of them were black or Hispanic from out-of-state.
LePage has previously faced similar accusations of racism. Back in January, he said that drugs came into Maine via "guys with the name D-Money, Smoothie, Shifty" from Connecticut and New York, and those dealers then impregnated "young, white" girls.
That comment drew wide rebukes, including from fellow Republican Gov. Charlie Baker.
On Friday, LePage apologized for the obscenities in the voicemail and for proposing a duel, which he said was a "simply a metaphor" and "I meant no harm to Gattine."
He continued:
"When someone calls me a racist, I take it very seriously. I didn't know Drew Gattine from a hole in the wall until yesterday. It made me enormously angry when a TV reporter asked me for my reaction about Gattine calling me a racist. It is the absolute worst, most vile thing you can call a person. So I called Gattine and used the worst word I could think of. I apologize for that to the people of Maine, but I make no apology for trying to end the drug epidemic that is ravaging our state. Legislators like Gattine would rather be politically correct and protect ruthless drug dealers than work with me to stop this crisis that is killing five Mainers a week."