Politics
Elevated by two former Massachusetts governors, Gary Johnson takes a hard stumble
It's been a roller-coaster 24 hours for the Libertarian ticket.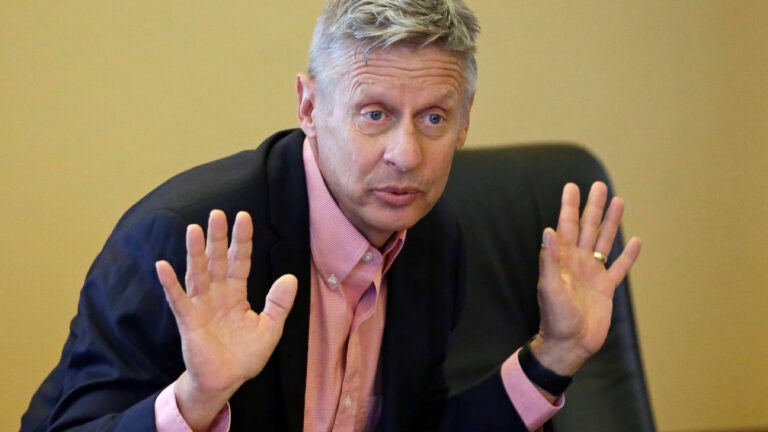 Gary Johnson had a great news day on Wednesday.
Former Massachusetts Gov. Mitt Romney, an outspoken critic of both major-party nominees this year, called for Johnson and his running mate on the Libertarian ticket, Bill Weld, to be included in the presidential debates.
I hope voters get to see former GOP Governors Gary Johnson and Bill Weld on the debate stages this fall.

— Mitt Romney (@MittRomney) September 7, 2016
Johnson has sought the support of Romney, the 2012 GOP presidential nominee, and other high-profile Republicans upset with the party's nomination of Donald Trump.
However, a Romney aide confirmed Thursday that the tweet, his first in two months, was not an endorsement. Yet, it was still celebrated as gratifying by the Johnson campaign and was widely covered by the political media, including The Boston Globe and the Washington Post.
The positive headlines were short-lived.
In an MSNBC interview Thursday morning, Johnson was asked, "What would you do if you were elected about Aleppo?"
It may be worth noting here that Romney has said he wished Weld, a fellow former Bay State governor and friend, were at the top of the Libertarian ticket.
WATCH: Libertarian presidential candidate Gary Johnson asks Mike Barnicle, "What is Aleppo?" https://t.co/BcG5hufHYf

— MSNBC (@MSNBC) September 8, 2016
Johnson, visibly caught off-guard by the question, appeared to not be immediately familiar with the northwestern Syrian city entangled in the country's violent civil war.
"And what is Aleppo?" he asked.
Johnson's confused response was met with immediate disdain, both to his face ("You're kidding," replied reporter Mike Barnicle) and on social media.
It also took off. The particular phrasing, "What is Aleppo?" was succinct enough to fit into a headline or tweet, and even segued seamlessly nicely into explainer articles. "Aleppo" trended throughout the day on Twitter and, according to Google Trends, more than 1,000 news articles were written on the subject by noon Thursday.
Searches for #Aleppo today overtook searches for both #Trump and #Clinton https://t.co/aTjUCtLzUO pic.twitter.com/nPKSLcVwiL

— GoogleTrends (@GoogleTrends) September 8, 2016
Johnson did go on to explain his position on the Syria conflict and his skepticism toward foreign intervention and the United States' support for regime change in other countries. He also followed up with a statement Thursday morning admitting that he "blanked."
Must admit, a refreshingly human statement here from Gary Johnson: pic.twitter.com/aYnXVhfbhR

— Sopan Deb (@SopanDeb) September 8, 2016
Explanations aside, the gaffe could have come at a better time for the Libertarians, who are desperate to be the first third-party presidential candidates in two decades to be included in the presidential debates.
To qualify, they must register 15 percent support in five recognized national polls, according to a threshold set by the debate commission. Currently, according to Real Clear Politics, Johnson is averaging 9 percent in recent polls.
As Bloomberg's Mark Halperin noted, Johnson probably is not the stronger half of the Libertarian ticket when in comes to foreign policy.
Weld, who is a member of the Council on Foreign Relations, a foreign policy think tank, was in Boston on Thursday talking to students and reporters at Emerson College.
Asked about his running mate's flub, Weld told reporters it could have happened to anyone and that Johnson has been busy campaigning.
"You do occasionally blank," Weld said, according to the Globe.
Weld on Johnson's Aleppo gaffe: "he's been flying around the country". "Not reading newspapers" as much as he normally would #fox25

— Ted Daniel (@tvnewzted) September 8, 2016
Weld, Welding: "I grew up with the book 'Once in Aleppo' by on my parents' bookshelf"

— Jim O'Sullivan (@JOSreports) September 8, 2016
The former Bay State governor also drew comparisons to former President George W. Bush's foreign policy gaffes when he was quizzed by a Boston reporter during his 2000 campaign. Weld also dismissed the notion Johnson's error was fatal.
"Probably 85 percent of the people in the country couldn't put Aleppo on a map, so I'm not sure the consequence of the slip is going to be lasting at all," he said, per the Globe.
The first presidential debate is September 26, less than three weeks away.