Politics
Want Deval Patrick to campaign for you? Bring some good food.
The former governor—and foodie—is hosting a Hillary Clinton fundraiser with Boston's top chefs.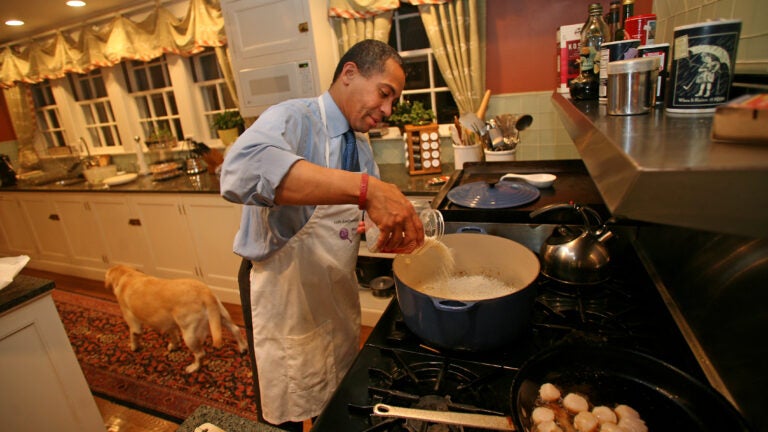 With the exception of a podcast here or there, Deval Patrick has stayed pretty quiet during the 2016 presidential campaign. In fact, since leaving the Corner Office in 2015, the former Massachusetts governor, unlike certain other top local Democrats, has completely shied away from the campaign trail.
But Politico reported Tuesday that Patrick will return to the stump next week, though not without an extra incentive: Boston's best food.
According to the report, the former governor will host an "Evening with Chefs for Hillary and Gov. Deval Patrick and special guests" Monday night in Newton, at which he will judge dishes cooked by the area's top chefs.
Per Politico:
It's a chance for Patrick, a foodie, to kill two birds with one stone: raise a bunch of money (or so one would assume though ticket prices weren't listed on the event invite) while noshing some of the city's best culinary offerings.
According to an invitation obtained by Politico, chefs from local culinary cornerstones including Spoke in Somerville; Craigie on Main, Bisq, and Cafe ArtScience in Cambridge; and Boston's Lincoln Tavern and Citizen Oyster Bar are set to cook at the event. Patrick will be one of the three judges.
The governor hosted and judged a similar event for President Barack Obama's re-election campaign in 2012. In an interview with food blog Super Chef at the time, "Chefs for Obama" head Joseph Hanley, a local lawyer, described Patrick as a "foodie" and said the governor is "very passionate about food and wine."
Indeed, in a 2006 Boston Globe profile, Patrick described his love of cooking while making dinner for his wife and 12 guests around the holidays.
"I cook because it is relaxing, it's creative," said Patrick, as he began to sear off a massive quantity of scallops for a risotto Thursday night. "It's also the most social thing I think people do."

But he is just as likely to brandish his saute pan when cooking alone, said his wife, Diane. When they first began dating, she called him one night to see if he wanted to get together. He said he was in the middle of making dinner for himself and invited her over. She arrived to discover the main course was chicken marsala.

"I'm not sure I'd ever had chicken marsala at that point," she said with a laugh. "I was immediately impressed. This is a bachelor living by himself, and that's what he threw together for his dinner."

Which brings us to the reason Patrick learned to cook in the first place.

"I love to eat," he said. "I'm not kidding. That's the main thing."
Patrick told the Globe he first got his start cooking when he was a child helping his grandmother make fried chicken and other Southern food. His favorite Christmas presents are reportedly kitchen implements.
As governor, Patrick declared October 24 "Food Day" in Massachusetts to support locally sourced and healthy food. He launched a newsletter to encourage healthy cooking and frequented local cooking events (including a Museum of Science event, where he whipped up an intriguing lobster dish). Patrick even grew his own garlic.
During a 2015 trip to Beijing, Patrick even adventurously tried a rare fish that required a "special chef" to remove its venomous parts, according to emails reported on by the Globe.
"When you ate the serving," Patrick wrote, "your lips tingled."
Whatever the taste of the food Monday, for Clinton supporters, the prospect of the popular governor, a campaign holdout, putting his political might behind them must also be tingling.