Politics
Elizabeth Warren excoriates Wells Fargo CEO at Capitol Hill hearing
"It's gutless leadership."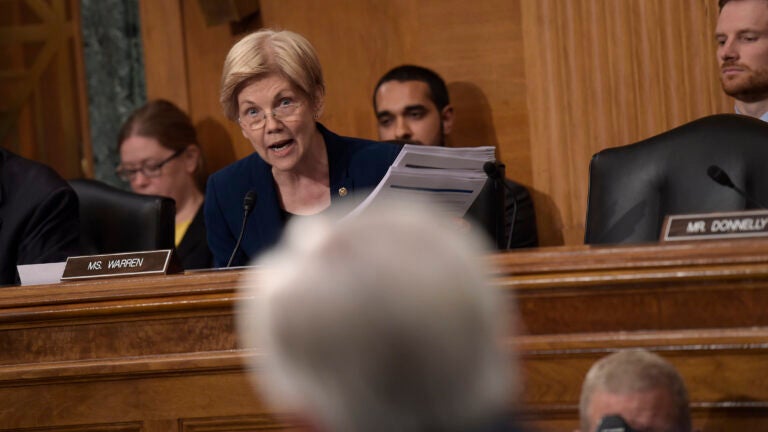 Elizabeth Warren launched a blistering takedown Tuesday of Wells Fargo CEO John Stumpf during a Capitol Hill hearing about allegations that the bank opened millions of fraudulent customer accounts, calling his leadership "gutless" and demanding a criminal investigation into the scam.
The Massachusetts senator's line of questioning during the Senate Banking Committee hearing was personally directed at Stumpf.
"Since this massive years-long scam came to light, you have said repeatedly, 'I am accountable.' But what have you actually done to hold yourself accountable?" she asked. "Have you resigned as CEO or chairman of Wells Fargo?"
"The board, I serve—" Stumpf began. But Warren interjected.
"Have you resigned?"
"No, I have not," he said.
On September 8, the bank paid a $100 million fine to the Consumer Finance Protection Bureau—a financial watchdog agency Warren conceived—as well as $85 million to other agencies. It was the largest penalty ever collected by the CFPB, according to the Washington Post. The bank says it has fired 5,300 low-level employees, roughly 2 percent of its workforce, for opening 2 million fake accounts for unsuspecting customers over the last five years. Since at least 2010, the bank had incentivized its workers to open multiple accounts for customers.
Warren said Stumpf's definition of "accountable" was "to push the blame to low-level employees who don't have the money for a fancy PR firm to defend themselves."
"It's gutless leadership," she said, adding that Stumpf should resign, give back the money he earned while the fraud was occurring, and face a criminal investigation.
Later in the hearing Tuesday, CFPB Director Richard Cordray declined to say whether the agency had made any criminal referrals.
"Have you returned one nickel of the millions of dollars you were paid while this scam was going on?" Warren asked.
Stumpf pushed back on the use of the word "scam."
"That was not my question; this is about responsibility," Warren shot back.
Stumpf began to explain that the board would decide on the matter.
"I'll take that as a 'no' then," Warren said.
Warren said that while other banks average three accounts per customer, Wells Fargo pushed employees to aim for an unrealistic goal of eight accounts, as emblemized by the company's slogan "Eight is Great."
Earlier in the hearing, Stumpf said he was "deeply sorry" for the scandal, which was first reported by the Los Angeles Times in 2013.
He also said the company would end product sales goals for employees and would begin to expand its review and verification of customer accounts.