Politics
Why isn't Donald Trump releasing his tax returns? Hillary Clinton has some theories.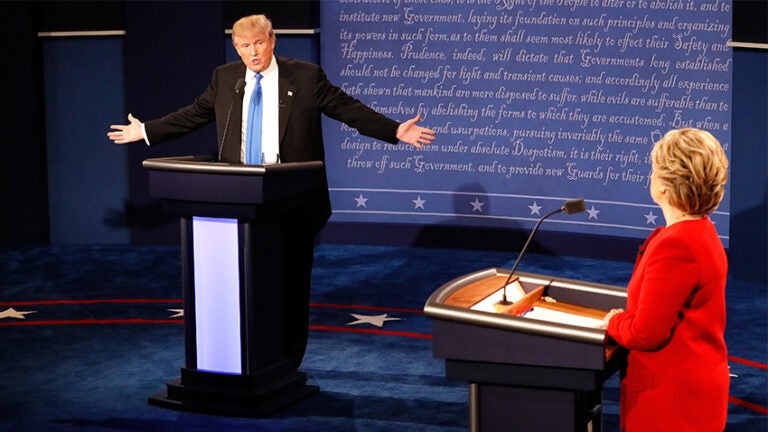 The long-running issue of Donald Trump's refusal to release his tax returns, as has every presidential nominee since Gerald Ford, was pushed into the forefront of the first presidential debate Monday night.
Debate moderator Lester Holt said the reason for the tradition of releasing tax returns was to show if potential presidents had any conflicts of interest. Holt asked Trump whether the public did not have a right to know if the Republican nominee had any conflicts of interest.
Trump suggested he would willing to release his tax returns, on one condition.
Trump: I will release my taxes when Clinton releases her deleted emails https://t.co/iXIwDaIPem #Debates2016 https://t.co/DaVaRG7Aay

— CNN Politics (@CNNPolitics) September 27, 2016
"I will release my tax returns, against my lawyers' wishes, if she releases her 33,000 emails that have been deleted," Trump said, apparently referring to the nearly 32,000 purportedly personal emails Hillary Clinton deleted while serving as secretary of state.
"So it's negotiable?" asked Holt.
Trump has repeatedly cited an ongoing audit as the reason he will not release his returns, as he did Monday night, even though, as Holt noted, an audit does not prevent him from releasing them.
In response Monday night, Clinton questioned why Trump did not release his tax returns and floated a few theories.
Clinton lists reasons why she says Trump might not release his returns https://t.co/iXIwDaIPem #Debates2016 https://t.co/w57l7C5Gch

— CNN Politics (@CNNPolitics) September 27, 2016
Clinton suggested either Trump wasn't as rich or charitable as he claims to be, or that Trump's business dealing had entangled him in some business conflicts. Finally, she suggested that he had paid nothing in federal taxes.
"It must be something really important or terrible that he's trying to hide," Clinton said.
As for her emails, Clinton admitted that she made a mistake using a private server for official government business.
"I'm not going to make any excuses; it was a mistake and I take responsibility for that," she said.
Trump replied that it was "more than a mistake" and said the revenue from his federal taxes "would be squandered" by the government.