Politics
Meet the congresswoman from Mass. taking on cyber criminals
Rep. Katherine Clark is fearless in her fight to get justice for cyber crimes.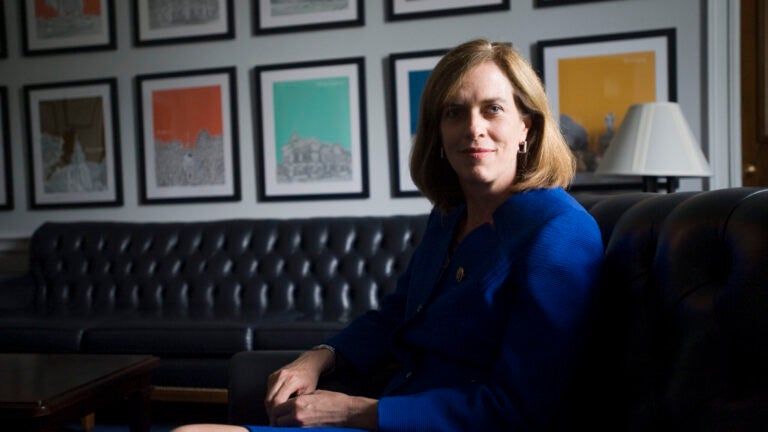 After Massachusetts Rep. Katherine Clark introduced a bill that would criminalize swatting hoaxes – a ploy in which a SWAT team is intentionally and incorrectly called to a residence – Clark became a target of a swatting attack herself.
One Sunday night in January, a large armed police unit surrounded her house. As she later learned, someone had dialed 911 after hearing about her bill. But that scare didn't stop her. In fact, it only made her work harder to combat internet abuse.
"It certainly brought home the point of how brazen some of these criminals are," Clark, a Democrat from Melrose, said in an interview with Boston.com. "These are anonymous threats made under fake names, fake accounts on social media, so they're never caught."
Clark, who has been called "Congress' most vocal advocate for victims of digital harassment," filed another bill earlier this month that would increase the amount of data the FBI and Department of Justice have on cyber crimes.
The Cybercrime Statistics Act would require the attorney general to develop a national strategy to reduce the incidence of cyber crime around the country. It would also require the Department of Justice to include cyber crimes in its data reporting system, giving the public a more transparent understanding of these crimes and how often they're being committed, Clark said.
The bill was inspired by what Clark described as a lack of action by the federal government surrounding online crimes.
"They know how many prosecutions they are conducting but have not shared that information. … They obviously are not willing to be very forthcoming with that information," she said. "With better data we can measure the effectiveness of the policies and reduce the incidence of cyber crimes."
Clark first began to take on online harassers in late 2014, when she heard the story of Brianna Wu, a video game developer (and one of Clark's constituents) who lived in the Boston area and had spoken out against sexism in the gaming industry. She became a victim of "GamerGate," a 2014 controversy during which female game developers were harassed for attempting to diversify a homogeneous industry. Wu received very specific rape and death threats, Clark said.
"The number of threats that she was receiving [had] her home address, they sent pictures of the weapons they were going to use to murder Brianna and her family, and she had to leave, and flee her home, because of it," Clark said.
"It's really her case that propelled us into discussions and requests for information from the FBI and Department of Justice that we've been asking for for almost two years now, and really haven't received a satisfactory answer."
Then there's the story of Zoë Quinn, another video game developer and GamerGate victim, whose case made its way to Massachusetts. In September 2014, Quinn filed a restraining order in Suffolk Superior Court against her ex-boyfriend after he wrote a virulent essay about her online, leading to a slew of threats, hate, and abuse. Quinn began to pursue harassment charges, but later dropped them due to the difficulty of prosecuting online abuse, she wrote in a blog post.
"She knew who was behind all of the online abuse and information and fabrications that were spread online about her — including pornographic images, revenge porn," Clark said. "But she still has not been able to have justice."
Curbing cyber crime is a fairly bipartisan issue, Clark said. Since its debut, she has received support from both sides of the aisle.
She pointed out that 73 percent of adult internet users have witnessed digital harassment. A quarter of users have seen someone being physically threatened online.
"Many members of Congress have heard from their constituents that this is a rising issue, and as we become more dependent on the internet, not only for our personal lives but for our professional lives, this really becomes an issue of economics," Clark said, "and making sure we are keeping the internet safe and open to everyone."
The U.S. legislative session is coming to a close, and it's unlikely the Cybercrime Statistics Act will get passed this year. Clark plans to re-file the bill next session as part of a larger package of legislation surrounding cyber crimes. She hopes the legislation will change the culture and stigma surrounding online harassment.
"Often these crimes are viewed as virtual and not really as serious a crime as the very real-world effects they often have," she said. "So I hope we'd have better data and really begin to change the culture of how serious these crimes are viewed."