Politics
Legalization backers blast Sheldon Adelson's $1 million donation to a Massachusetts anti-pot group
The GOP megadonor and casino magnate is originally from Dorchester.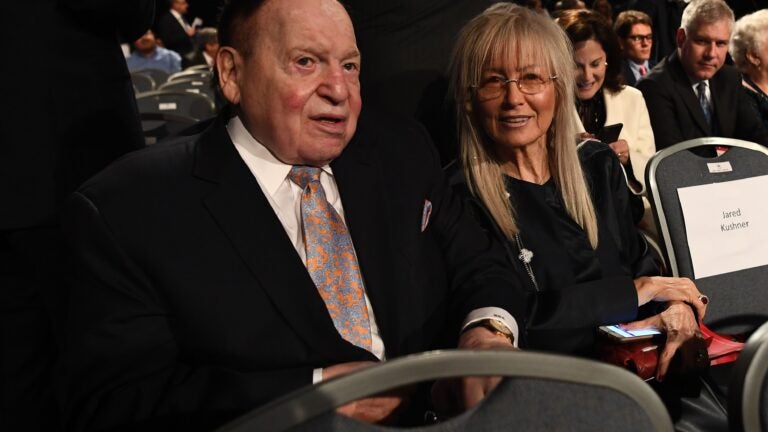 Perhaps unsurprisingly, Republican megadonor Sheldon Adelson's hefty underwriting of a Massachusetts anti-marijuana group is not going over well with pro-legalization supporters in the state.
The Boston Globe reported Friday that Adelson, a Dorchester native, had taken an interest in his home state's marijuana legalization ballot question to the tune of $1 million, which he donated to Campaign for a Safe and Healthy Massachusetts.
The billionaire casino mogul's seven-figure contribution is expected to show up in the group's semi-monthly campaign public filings later this week.
Adelson's donation significantly boosts the anti-pot group's budget. According to the group's end-of-September filing, Campaign for a Safe and Healthy Massachusetts had raised $608,748.73. Meanwhile, the main group supporting the November ballot initiative, Yes of 4, had received more than $3.3 million this year.
Will Luzier, the campaign manager for Yes on 4, characterized Adelson's donation as part of a "last ditch" scare tactic by opponents of legalizing marijuana.
"Regulated and taxed systems are working well in Colorado and other states, and voters will see through this last ditch effort by Sheldon Adelson and our opponents to scare voters into thinking otherwise," Luzier said in a statement Monday.
David Rogers, a Democratic state representative from Cambridge, was a little more pointed in his criticism.
"Having made his money in the predatory casino industry, and no longer content just to bankroll radical right wing candidates, Sheldon Adelson apparently now has decided to tell Massachusetts voters how to vote on Question 4," he said. "My bet is on the Massachusetts voters, not a Trump-supporting casino magnate."
This isn't the first time Adelson has bankrolled anti-marijuana movements. In 2014, he donated $5.5 million to a group opposing a (ultimately unsuccessful) referendum to legalize marijuana for medicinal purposes in Florida. According to the Washington Post, Adelson's contributions accounted for 85 percent of the money raised by the group.
He is primarily known for his significant financial contributions to Republican politicians and causes. According to OpenSecrets, Adelson and his wife, Miriam Ochshorn, have spent the third most of any outside political spender so far in 2016. The New York Times reported in September that the couple plans to donate $40 million to groups supporting congressional Republicans in this year's election.
In a statement last week, the Campaign for a Safe and Healthy Massachusetts told the Globe they were happy to have Adelson and Ochshorn's support.
"We are grateful for the support of Mr. Adelson, a Massachusetts native, who with his wife Dr. Miriam has been a long-time antiaddiction advocate," said Jim Conroy, a spokesman for the group. "His generosity will prove critical in preventing a billion-dollar marijuana industry from establishing a foothold in our communities."