Politics
Tom Brady says Donald Trump is a fan of the Patriots and 'always called me after games'
"He's been on the Patriots sideline a lot."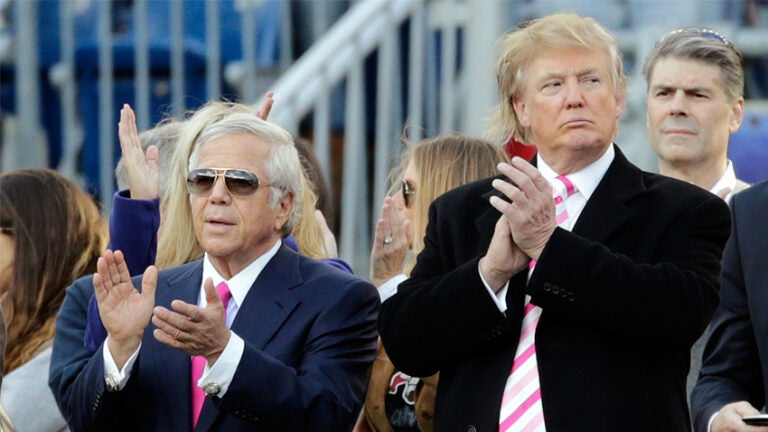 This time, Tom Brady couldn't walk away from the topic.
In his weekly Monday morning interview on WEEI's Kirk and Callahan, the Patriots quarterback was asked about his friendship with Republican presidential nominee Donald Trump.
Brady said he met Trump 15 or 16 years ago. In the past, Brady has pegged the beginning of their friendship on when the quarterback judged Trump's Miss USA beauty pageant in 2002, shortly after winning his first Super Bowl.
"We've played golf together many, many times and I've always had a good time with him," Brady said Monday, adding that Trump is a "friend of mine" and a fan of the Patriots.
"He's supported the Patriots," the quarterback said. "He's been on the Patriots sideline a lot."
Trump has accompanied Patriots owner Robert Kraft on the field of Gillette Stadium before at least two games—in 2007 and 2008—both against the New York Jets.
"[He] always called me after games to encourage me over the course of 15 years and, you know, that's kind of the way it is," Brady said of Trump.
In a real Elizabeth Warren move, Brady confirmed that he would cast a ballot in the November 8 election, but declined to say for whom he would vote.
"Yeah, I'll vote," he said with a chuckle when asked. "Maybe we'll talk about it after Super Tuesday or whatever it is."
Brady also addressed his decision to walk out of a press conference last week after a reporter asked a question about a recorded conversation of Trump making lewd comments about women. The candidate has defended the remarks as "locker room talk."
"Obviously there's a lot of headlines to make, and I've tried not to make a lot of headlines," he said. "I've been in an organization where we're taught to say very little. … The thing I've always thought is I don't want to be a distraction for the team."
The Brady-Trump friendship was highlighted last year after one of the GOP candidate's trademark "Made America Great Again" hats was spotted in the quarterback's locker. Trump also maintains "good" and "close" friendships with Patriots coach Bill Belichick and owner Robert Kraft, respectively.
Unlike his running mate (and Indianapolis Colts fan) Mike Pence, Trump has not been shy about reminding the public of the mutual admiration he and the Patriots share.
"I have so many great friends in New England, including Tom Brady and Coach Belichick," Trump said at a New Hampshire rally Saturday, according to The Boston Globe. "How good is Tom? Remember last year, he had the red hats?"
Last September, Brady said "it would be great" if Trump was elected president.