Politics
Big-city money, hunters clash over gun background checks in Maine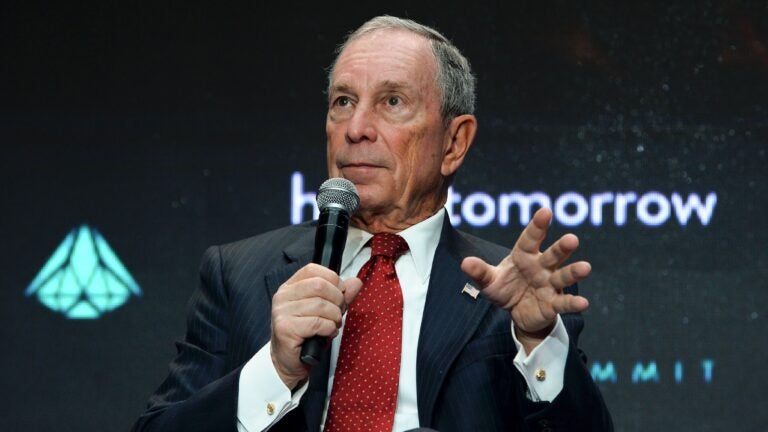 AUGUSTA, Maine (AP) — A national big money campaign to expand background checks one state at a time is revealing tensions among hunters and law enforcement in Maine about just how far the government should go to keep firearms from falling into the wrong hands.
It's on track to be one of Maine's most costly ballot campaigns ever, with both sides touting their credentials and decrying the influence of powerful special interest groups. In Maine alone, former New York City Mayor Michael Bloomberg's gun safety nonprofit has contributed $3.7 million, while the National Rifle Association's nonprofit advocacy arm has ponied up about $420,000.
Data released by the Center of Public Integrity shows $2 million has been spent on television ads for Maine's referendum questions, with $1.3 million spent on Question 3 ads. Bloomberg's campaign has backed similar laws in Colorado, Washington and Oregon, and this year is supporting a comparable referendum in Nevada.
Question 3 would mandate background checks before gun sales and transfers between people not licensed to deal firearms. The referendum would follow a state criminal statute that defines transfers as meaning "to sell, furnish, give, lend, deliver or otherwise provide with or without consideration."
The question includes exceptions for giving firearms to family members, or giving a gun to a friend while hunting. Borrowing a firearm for the weekend, for example, would require a background check. First-time offenders face less than a year in jail and a $2,000 fine.
___
Closing the loophole
The referendum's citizen sponsors are Judi Richardson and her hunter husband Wayne, whose daughter, Darien, died in a 2010 home invasion. The handgun used to shoot her was originally bought legally and later sold at a gun show, and was also used in another Portland murder.
"Darien's homicide remains unsolved six years later in part because the murder weapon was sold without a background check — meaning police can't follow the trail to her killer," Judi Richardson wrote in a column this year. She declined comment.
Since 1998, more than 5,500 sales of firearms in Maine were blocked because prospective buyers were on a prohibited list, according to FBI data reviewed by the Bloomberg-backed Everytown Against Gun Safety. Another of the group's studies found nearly 3,000 firearms are advertised for sale annually by private sellers.
The group also found fewer domestic violence homicides, suicides and police killed by guns in states with background checks for licensed handgun sales. A recent state report found perpetrators most often use firearms to commit domestic abuse homicides in Maine.
"Right now, if you're not a criminal or domestic abuser, you walk out of the store with a gun," said David Farmer, campaign manager of Mainers for Responsible Gun Ownership. "If you're blocked, the loophole allows you to walk right outside and buy that same gun without any questions asked" from an unlicensed dealer.
___
'This right shall never be questioned'
The idea of imposing burdensome regulations on other states isn't sitting well with opponents like Tammy Walter, president of the Spurwink Rod & Gun Club.
"It's offensive to me that someone can come into our state from the biggest city in the country and buy us," she said, referring to Bloomberg.
David Trahan, executive director of the Sportsman's Alliance of Maine, said people support background checks, just not the version that will be on the ballot.
Trahan questions why the law makes criminals of law-abiding Mainers by mentioning transfers, and claimed it would criminalize a friend left alone in a car or home with firearms. Farmer called such scenarios and worries of universal gun registration "simply untrue."
A 350-member association of appointed police chiefs supports Question 3, while 12 elected rural sheriffs oppose it. The Maine Warden Service has raised concerns about its enforcement, and Republican Gov. Paul LePage says it violates Maine's constitution, which reads: "Every citizen has a right to keep and bear arms and this right shall never be questioned."
Trahan said Question 3 will motivate voters particularly in the rural second Congressional district, which could lean toward GOP presidential nominee Donald Trump.