Politics
Gov. Charlie Baker lends political might to Question 2 supporters in 30-second campaign ad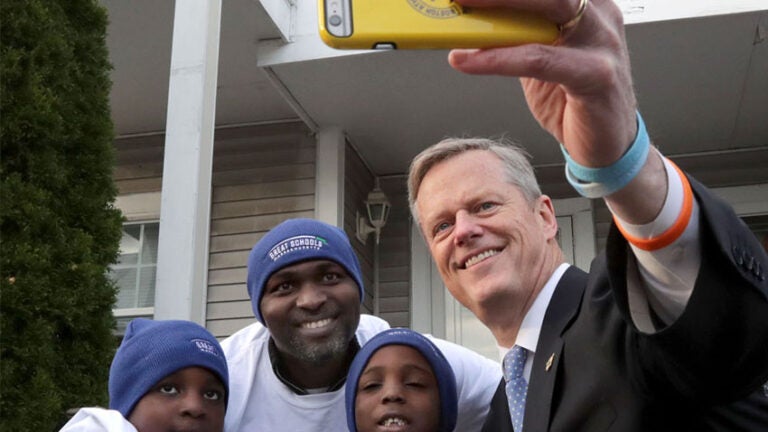 Gov. Charlie Baker isn't on the ballot this year, but that doesn't mean Massachusetts residents will miss him on the political airwaves.
The Massachusetts governor is featured in a 30-second ad for Great Schools Massachusetts, the top-spending campaign supporting a 2016 ballot question to lift the state cap on charter schools.
Baker, who is a popular Republican in traditionally liberal Massachusetts, has been a vocal supporter of Question 2, which, if passed, would allow the state to raise the current 120-school charter cap by 12 schools a year. The governor also spent some time Tuesday afternoon going door-to-door in Dorchester in support of the measure, as the State House News Service reported.
"Imagine if you're kid was trapped in a failing school," the governor says in the ad, which was also released Tuesday. "Public charter schools give parents a choice and are a pathway for these kids."
Boston Globe reporter David Sharfenberg noted that such phrasing, "asking voters to 'imagine' their own children trapped in failing schools" was a "direct appeal to the conscience of white, suburban voters." According to Sharfenberg,  the "Yes on 2" campaign views the suburbs as a "vital battleground."
However, a recent WBUR poll shows support for Question 2 underwater by about 11 percentage points.
In a separate email Tuesday sent by Great Schools Massachusetts, Baker urged residents to take advantage of early voting in the state to vote "yes" on Question 2.
Since the beginning of the year, Great Schools Massachusetts has spent more than $15 million in support of the Question 2 campaign, compared to more than $9 million spent by opponents.
In response to the ad Tuesday, the teachers union-backed Save Our Public Schools, the main group campaigning against Question 2, contested Baker's assertion that raising the charter cap wouldn't affect families who like their current school.
Pants On Fire Alert! @MassGovernor gets it wrong. Charters will be allowed everywhere in Massachusetts if Question 2 passes. #maedu #mapoli pic.twitter.com/lYmM9aWMLx

— Get Charter Facts MA (@Charter_Facts) October 25, 2016
In Boston alone, according to the Globe, the city expects $135 million in per-student state aid to be redirected to charter schools.
Paul Reville, a former state secretary of education and Harvard professor, recently told WGBH that charter schools do not create "a dramatic drain on per-pupil spending" in mainstream public schools. However, Reville said students moving to charters does put a squeeze on traditional public schools, often resulting in a loss of programs, due to fixed costs that must still be paid.