Politics
Massachusetts's 4 ballot questions, ranked by spending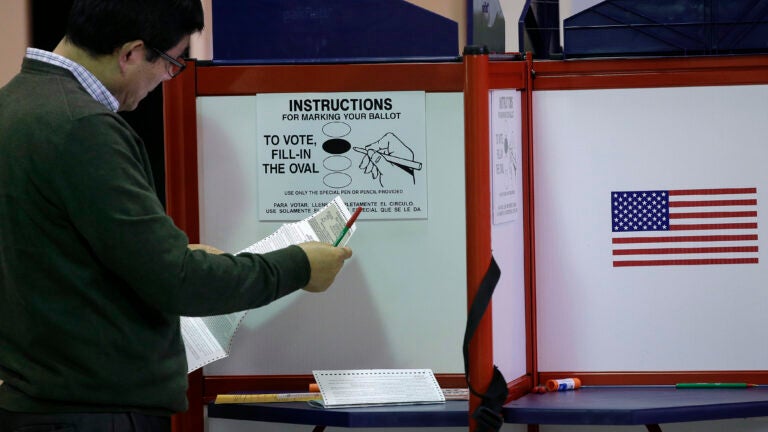 Without a major statewide race this year, the political focus in reliably blue Massachusetts is on the state's four ballot questions.
With Election Day just two weeks away and early voting in the state already begun, recently disclosed campaign finance filings provided the latest update on who is funding the campaigns for and against the four referendums. The mid-October reports, which were filed late last week, also shed light on which activists have a financial advantage.
It remains to be seen whether these millions — much of which pay for media and advertising — will be money well-spent.
Question 2: Charter Schools — $26.8 million
This contentious question to raise the state cap on public charter schools has split Democrats and spilled over into legislative races.  Currently, Massachusetts imposes a ceiling of 120 charter schools in the state. A "yes" vote on Question 2 would allow the state to approve 12 additional charter schools each year, while a "no" vote would keep the cap at 120.
The referendum has also attracted by far the most spending of any of the four questions in the state.
Support: $17.5 million
Charter school advocates lead opponents in spending on the measure, if not in polls, by a measure of two to one. The top backer is a group called Great Schools Massachusetts, which has spent more than $15 million since the start of 2016.
The latest filings show the large majority—about $13.5 million—of Great Schools Massachusetts's funding has come from a New York-based nonprofit called Families for Excellent Schools, which does not disclose its funders. WBUR and WGBH have both recently reported on the group's history and backers.
Oppose: $9.3 million
A group called Save Our Public Schools has spearheaded the campaign against Question 2 to the tune of more than $9 million, including more than $3 million in the first half of October. According to public filings, nearly $6 million of the group's funding has come from the Massachusetts Teachers Association. The National Teachers Association has also donated another $5.4 million to Save Our Public Schools, which reported Friday that it had more than $3.2 million left to potentially spend.
Question 4: Marijuana — about $5 million
Massachusetts will also vote this November on whether to become the fifth state to legalize recreational marijuana for adults (though the Bay State is hardly the only one; Arizona, California, Maine, and Nevada are also considering similar referendums this year).
A "yes" vote on Question 4 would legalize limited "possession, use, distribution, and cultivation" of marijuana for those 21 or older. Additionally, it would have the state create a commission to regulate and tax the recreational marijuana industry. A "no" vote, however, would dictate no change in Massachusetts, where the drug is decriminalized and legal for some medicinal purposes.
Support: $4.9 million
Supporters of Question 4 have been burning through money like it's a joint, even if not to the same degree as their Question 2 peers.
The main campaign supporting the initiative, YES on 4, has received $4.3 million of the more than $5 million raised from a Washington, D.C.-based pro-marijuana reform group called New Approach PAC. As The Boston Globe reported last month, the out-of-state group is led by attorney Graham Boyd.
"We think we can do a better job of controlling the harms of marijuana through a regulated system, rather than through the use of arrests and prisons," Boyd told the Globe of his motives.
Oppose: about $158,000
While being significantly over-spent by the other side, the six-figure sum spent by Question 4 opponents does not completely underscore anti-pot activists' spending capacity heading into the final weeks of the campaign.
Buoyed by a recent $1 million contribution by casino mogul and conservative mega-donor Sheldon Adelson, Campaign for a Safe and Healthy Massachusetts, the biggest spenders against Question 4, reported last week that they had $1.5 million in cash to spend.
As the Globe recently reported, Campaign for a Safe and Healthy Massachusetts also has received significant donations from Massachusetts's alcohol industry.
Question 1: Expanding gambling — $1.1 million
A "yes" vote on Question, perhaps Massachusetts's least active ballot question campaign, would allow the Gaming Commission to issue a second slots parlor license in the state.
Currently, state laws only allow a maximum of one slots parlor (one of which is located in Plainville's Plainridge Park Casino). However, Eugene McCain, a Thailand-based real estate developer with Massachusetts ties, wants to open a second slots parlor near Suffolk Downs in Revere and was able to get the question on the ballot.
Support: about $1.1 million
Perhaps unsurprisingly, the No. 1 spender on Question 1 is a group organized by McCain himself, called the Horse Racing Jobs and Education Committee. Of the more than $1 million raised and spent by the group in 2016, nearly all of it has come from a Delaware-based company, Capital Productions LLC, which has donated more than $940,000 this October. McCain has contributed $450 to the campaign.
According to the campaign's mid-October filing, Horse Racing Jobs and Education Committee most recently spent $445,625 on TV advertising on October 12, the same day it received a donation of that exact amount from Capital Productions.
Oppose: $50
The measly spending by opponents of Question 1 illustrates the steep odds the initiative faces to actually pass. With just $5,200 cash on hand, the Committee for Sustainable and Responsible Economic Development, the only publicly-registered group "campaigning" against Question 1, has spent just $50 in total against the question. That amount didn't even require itemization in its recent filing.
Given Questions 1's performance in the polls and a recent vote by Revere residents to reject a new gambling facility in their city, $50 may prove to be money unnecessarily spent.
Question 3: Animal confinement— about $806,000
Question 3 asks voters whether Massachusetts should ban the sale and production of produce, in which the animals (pigs, calves, egg-laying hens) are confined in a way that prevents them from lying, standing, or moving around freely. As WBUR has reported, the proposal is primarily focused on requiring cage-free eggs and banning the use of "gestation crates" for pigs. A "yes" vote on Question 3, which looks likely, would phase out such animal confinement practices by 2022.
Support: about $569,000
The spending by the main group supporting Question 3, Citizens for Farm Animal Protection, illustrates the question's favorable odds heading into voting. Though they have raised over $2.3 million—of which more than 90 percent has been contributed by the Humane Society—the group has spent less than a quarter of that total. Since the beginning of October, the group has spent only $41,626—most of which has been payroll and operating costs, rather than any form of advertising efforts.
A poll last week showed that 66 percent of likely voters said they will vote "yes" of Question 3, versus 28 percent who say they will vote "no."
Oppose: about $237,000
On the other side of the cage-free question, a newly-formed group called Citizens Against Food Tax Injustice has raised nearly $300,000 against the measure since late-September. Nearly two-thirds of that money has been contributed by Forrest Lucas, the president of Lucas Oil, an Indiana-based automotive oil company. Lucas is also the founder of Protect the Harvest, an advocacy group which argues Question 3 would raise the price of produce and disproportionately affect the poor.
Citizens Against Food Tax Injustice also received a $100,000 donation this October from the National Pork Producers Council, the country's largest pork lobby.
Of the more than $237,000 spent by the group, nearly $200,000 went to a recent cable advertising buy.